In 2019, Icewine accounted for only 13 per cent of Canada's export volume but a whopping 58 per cent of its value, according to Wine Growers Canada. Coined as Canadian "liquid gold," its status as a luxurious and special wine has put the country's winemaking and craftsmanship on the international wine map. 
Icewine is a dessert wine made from the juice of grapes that have been frozen on the vine and pressed while still frozen. It's known for its rarity, rich flavor, and intense aroma.
The first Icewine came from Germany (or Eiswein in German) but Canada has become the world's largest producer thanks to hot summers and reliably long, cold winters. The Wine Marketing Association of Ontario notes that the province is a major wine region, with 90 per cent of the country's Icewine production.
The heat trapped in Lake Ontario in the summer is released over the cooler months. This constant flow of warm air moderates the temperature in the fields during the winter, creating perfect growing conditions for the grapes, Natalie MacLean, an accredited sommelier and wine writer, shared in a post on her website.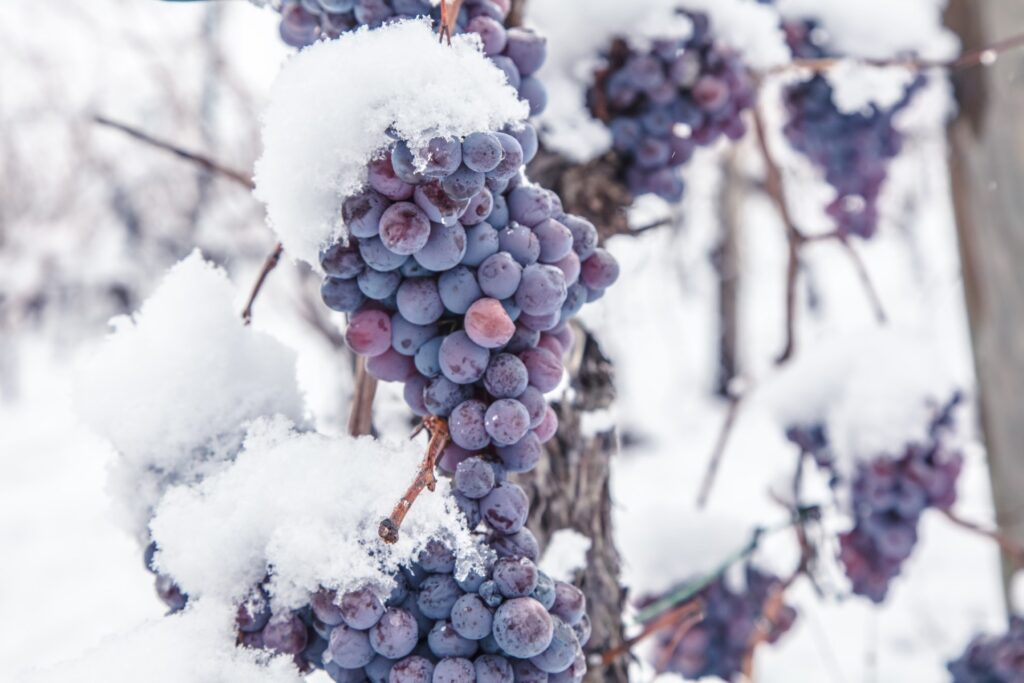 A Brief History of Icewine
According to Canadian author John Schreiner, the first Icewine was produced in Germany in 1794, when an early frost froze grapes on the vine. In hopes of salvaging some of the crop, the farmers picked and pressed these frozen grapes. The reward was a sublime nectar that could rival some of the famous sweet wines of the world. Dependent on Mother Nature, this wine was only produced in the coldest winters with great variability.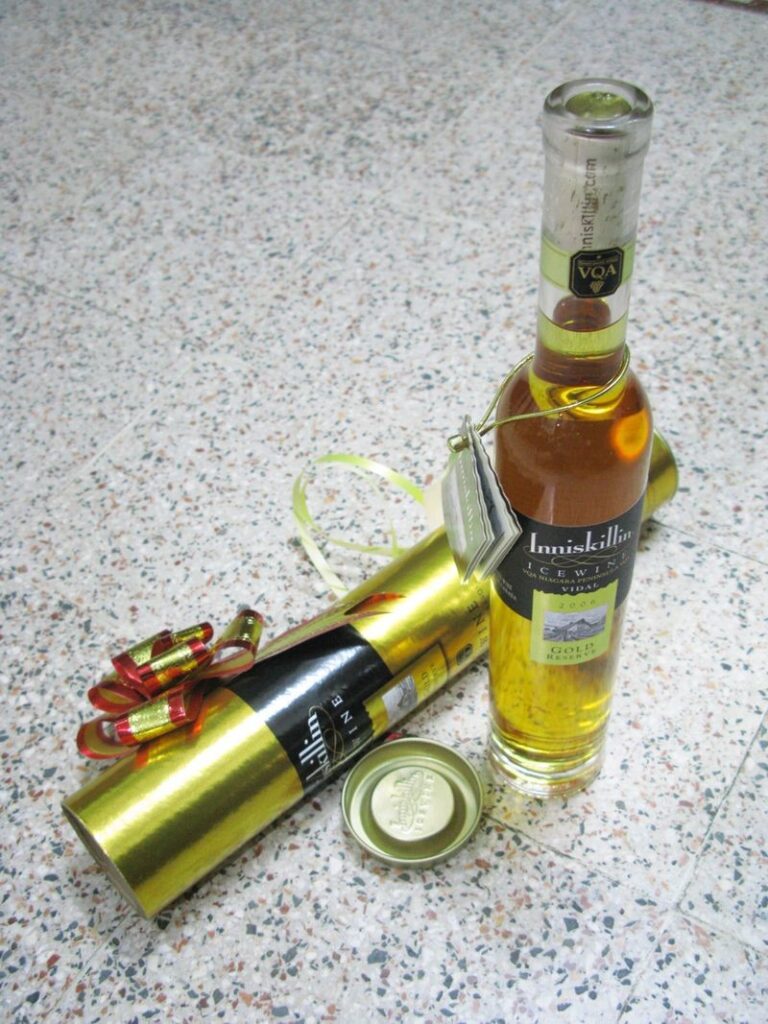 Two hundred years later, in 1975, Karl Kaiser and Donald Ziraldo made history after being given the first winery license in Canada since Prohibition.They founded Inniskillin, based in Ontario's Niagara region. In her post about Icewine, MacLean stated that in 1983, Kaiser wanted to see if he could make Icewine and left some of his grapes unpicked. Unfortunately, they were all eaten by birds. It was not until six harvests later that he succeeded.
In 1991, Inniskillin won the Grand Prix d'Honneur at Vinexpo in Bordeaux with its 1989 Vidal Icewine. Canadian Icewine has continued to gain international fame ever since.
The Icewine Making Process
The Ontario Wine Appellation Authority says that there are three main steps in the Icewine making process.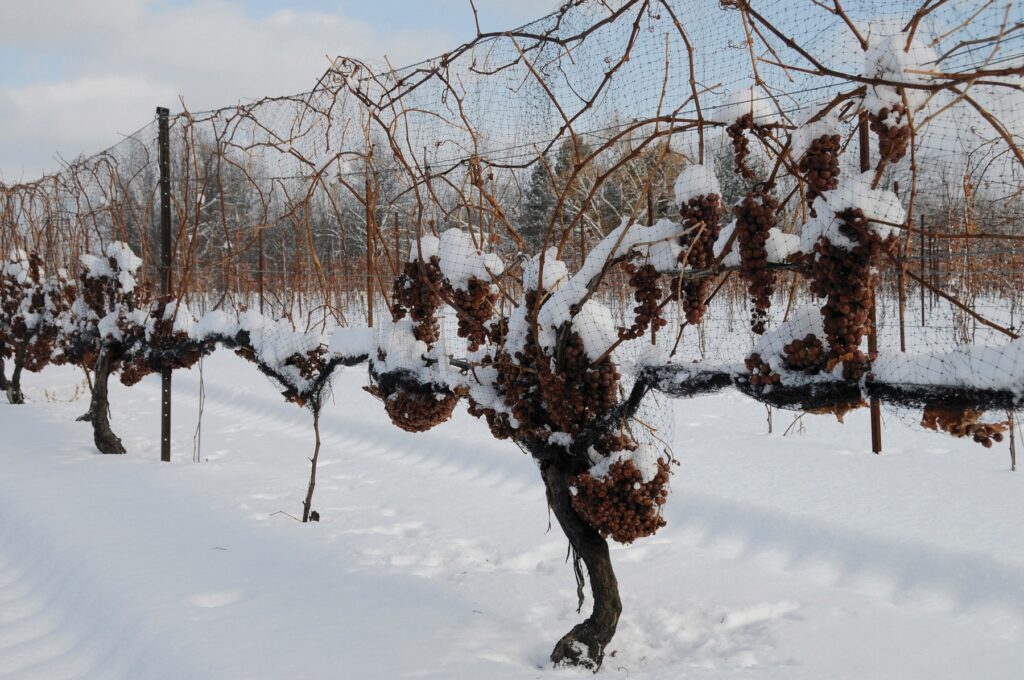 Harvesting
To prepare for the Icewine season, farmers must start covering the vines with nets in the autumn to prevent birds from eating the grapes. Then, when a sustained temperature of -8C or below is reached, it's time to pick and press the grapes. In Ontario, this could begin any time from the end of December to February. Farmers typically look for the mercury to hit between -10C and -12C. Temperature plays an important role in Icewine production, as it will determine the sugar concentration in the juice.
Traditionally, grapes are picked by hand, but machine-harvesting has become more popular, especially for larger vineyards.
Pressing
Once the grapes are picked, they go through a hydraulic press under much higher pressure than grapes harvested in the regular season. This allows the grapes to remain frozen throughout the process. As a result, the water content is retained as ice on the grape skins, and a highly concentrated juice is extracted. Typically, it takes around six hours to harvest and press the grapes.
Vinification
After the pressing process, yeast is added to the juice for fermentation to begin. The finished wine will have a relatively low alcohol and high sugar level, giving it the signature sweet flavor.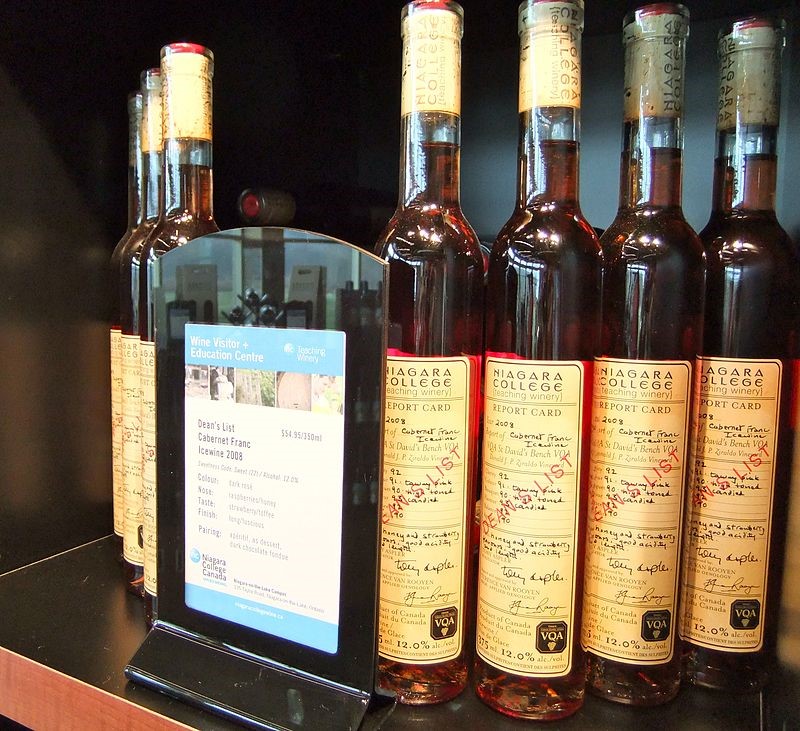 In Canada, "Icewine" is a registered trademark and can only be used by producers approved by VQA (Vintners Quality Alliance).
Unlike table wines, Icewine is typically sold in tall, thin bottles known as splits. These 375-ml bottles (and sometimes smaller) cost around $50 each on average. Why does Icewine command such a premium price?
First, juice yields for Icewine grapes are much lower than for regular wines. On average, 3.5 kilograms of Riesling grapes are needed for a 375-ml bottle of Icewine. For the same amount, you can produce six or seven times as much table wine.
Second, Icewine production is a risky endeavor. Since the grapes are left on the vines for an extended amount of time, there is a potential loss of crop from birds and other pests. Growers also have to watch out for weather such as rain, hail, ice storms or midwinter thaws.
What Does Icewine Taste Like?

The most common varieties of grapes are Vidal and Riesling. Their thick skins are resilient, allowing them to be harvested late in the season. While most red Icewine is from Cabernet Franc, it is sometimes made using other red single varieties or blends.
Riesling Icewine has a crisp, bold acidity, with an elegant, medium-bodied texture and concentrated candied citrus, apricot, and peach flavors.
Vidal Icewine has a plush acidity, with a rich texture and pronounced flavors of tropical stone fruit, mango, and lychee. Cabernet Franc Icewine has an aroma of ripe red fruits such as strawberry and rhubarb, and often has deep, complex, pepper notes.