Canada proudly identifies with its maple leaf trademark seen on the national flag. There is one of the six National Hockey League (NHL) teams called the Toronto Maple Leafs, along with companies such as Canadian Tire, VIA rail, Petro Canada and Air Canada that include a maple leaf as a part of their logo. All of which reflect the fact that we're in a country where maple trees grow.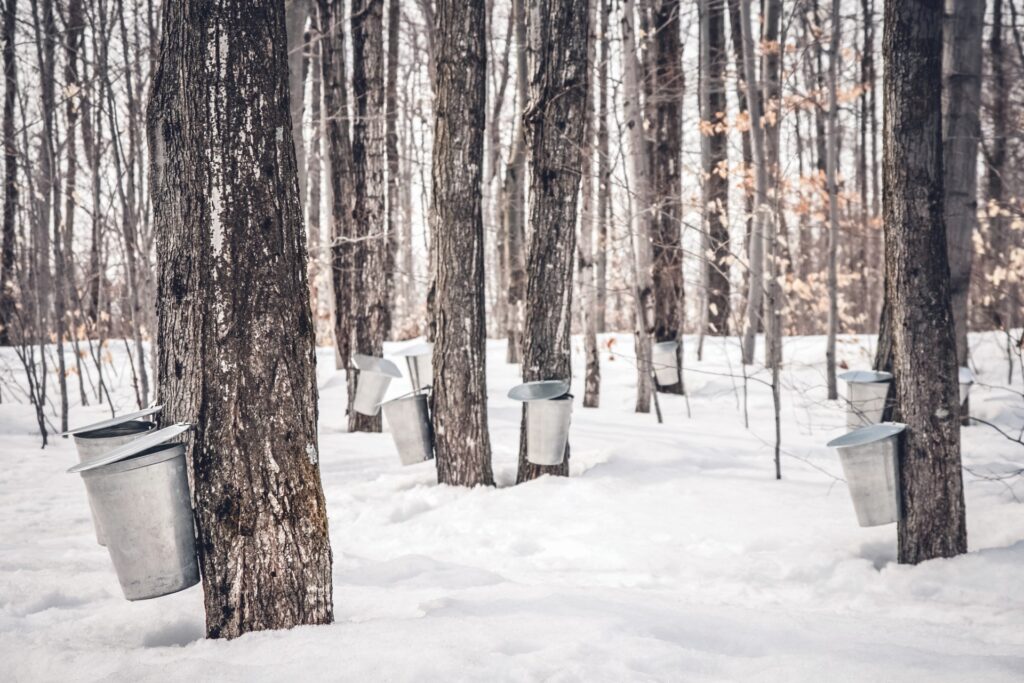 Long before European settlers came to Canada, Indigenous communities in Canada's Eastern Woodlands, located at the northeastern coast of the United States and the Maritimes to west of the Great Lakes and populated by the Haudenosaunee, Abenaki and Mi'kmaq, had discovered the sugar maple's sap. Legend has it that the Bgojinishnaabenhsag (also known as little people) sent a telepathic message to the Anishinaabe of Whitefish River First Nation, while they were asleep, telling them how maple syrup was made. From then on, maple syrup was integrated into their daily lives, and several manmade tools including birchbark containers and pots were invented to collect and cook the sap. Maple trees became meaningful to Indigenous peoples on a spiritual level and they found that the syrup had medicinal qualities. For First Nations the spring harvest season has many names, one of them given by the Anishinaabeg was 'sugar making moon.'
A hardwood forest called the Maple Belt, is Canada's primary source of maple syrup. It runs through Ontario, Quebec and into New Brunswick, Nova Scotia and Prince Edward Island. British Columbia, Manitoba and Saskatchewan also produce smaller amounts of syrup.
Canada produces 75 per cent of the world's maple syrup. The Canadian maple syrup industry generated a revenue of $558.5 million in 2020. Quebec is responsible for 92 per cent of Canada's overall production and 96 per cent of Canadian maple product exports. There are more than 10,000 jobs across that province's 12 maple-producing regions. Four per cent of Canada's maple syrup comes from New Brunswick, three per cent from Ontario and one per cent from Nova Scotia. According to 2020's Maple Report, Canada produced almost 175 million pounds (13.2 million gallons) of maple syrup in 2019, and more than 189 million pounds (14.2 million gallons) of maple syrup in 2020.
Canada is the world's largest exporter of Canadian maple products in terms of "value and volume." In the two years leading up to July of 2019, Canadian maple products were exported to 72 countries. About 91 per cent of the highest exports were to six countries – approximately 62 per cent went to the United States, 11 per cent to Germany, six per cent to Japan, five per cent to the United Kingdom, four per cent to Australia and four per cent to France. In this period of time Statistics Canada reported that Canada exported, on average, $34 million worth of maple products per month.
Although traditional farms, sugar shacks and other in-person maple syrup-related activities weren't open to the public in 2020, ideal weather conditions outweighed the loss of ecotourism. Canada produced 14.3 million gallons of maple syrup, surpassing 2019's record of maple syrup production by over a million gallons. That year more than 61 million kilograms of Canadian maple products were exported to 68 different countries and "exports valued at $515 million in 2020, were up 19.8 per cent from 2019," according to a statistical overview on the Government of Canada site.
Last year, the Organization of Petroleum Exporting Countries (OPEC) shared that there were 50 million pounds of maple syrup released from Quebec reserves, as a result of an increased supply demand. The extra maple syrup supply was pasteurized and will be stored at a reserve warehouse in sterilized barrels, as a way to preserve it for years down the line.
The sap runs between early March and late April. Temperatures need to be warm during the day, and below freezing at night in order for the sap to thaw post-hibernation, according to When is Maple Syrup Made by Acadian Maple.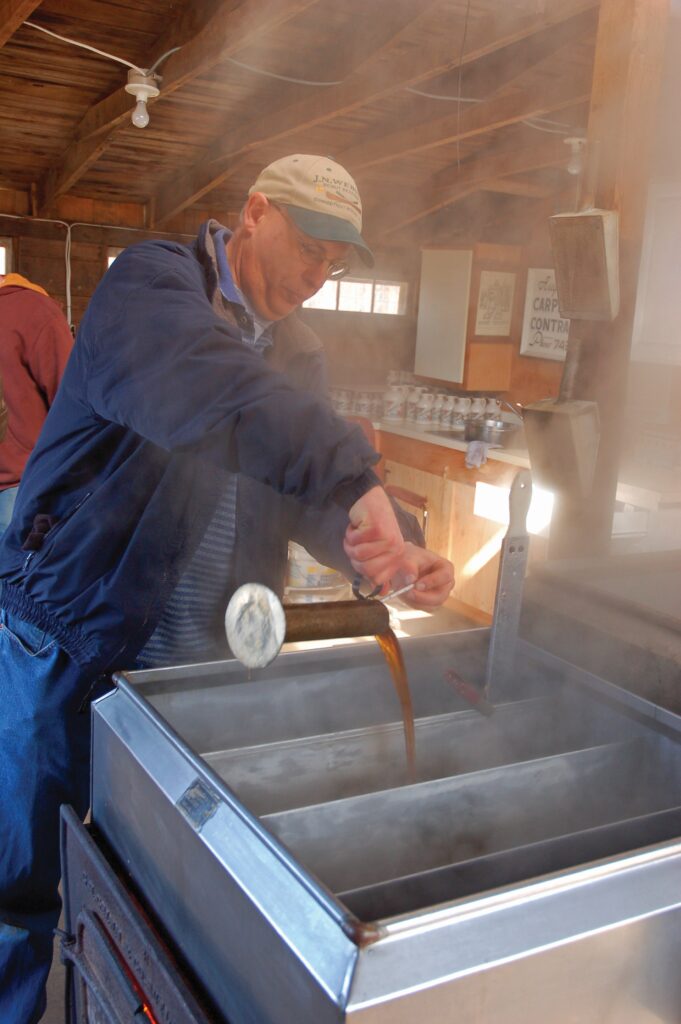 The process of making maple syrup involves collecting the sap (from sugar maple or red maple trees) with either traditional buckets or the modern tubing system. Each maple tree can be tapped a maximum of three times during the harvest season. Next, the sap is transported in storage containers and taken to an evaporating sugar house where the metal evaporator will cook down around 40 gallons of sap until it becomes one gallon of pure maple syrup. This occurs because sap is 98 per cent water and only two per cent sugar, the key ingredient for syrup. Afterwards a Maillard reaction takes place, causing the syrup to achieve a desired brown color, aroma and taste.
Maple syrup is similar to molasses, but with a lighter, more fluid consistency. It has a mild woodsy odor and tastes slightly toasty. Golden maple syrup is harvested early spring, and it has a mild taste. The strongest kind is darker in color and harvested towards the end of the sugaring-off season. Golden syrup sold in the stores is classified as grade A and is free of fermentation and filtered.
Some fun facts about maple syrup according to Pure Maple From Canada, are that Jacques Cartier was the first European to stumble upon the sugar maple tree in 1534. The Huron consumed organic sap right from maple trees in 1623 and in 1951 canned maple syrup made its debut in grocery stores.
Maple syrup is used as a substitute for sugar and to drizzle over pancakes. Other products include maple sugar, butter, candy and taffy made by pouring boiling syrup on snow. It is also used to sweeten cereal, yogurt and to glaze various meats. According to Nutrition & The 9 Health Benefits of Maple Syrup by Maine Maple Producers, vitamins and minerals in syrup include high amounts of zinc and manganese, as well as, potassium and calcium. The article notes that zinc can help fight illness and improve immunity since it keeps your level of white blood cells up, while manganese plays a crucial role in fat and carbohydrate metabolism, calcium absorption, blood sugar regulation, brain and nerve function. Maple syrup also has antioxidant properties.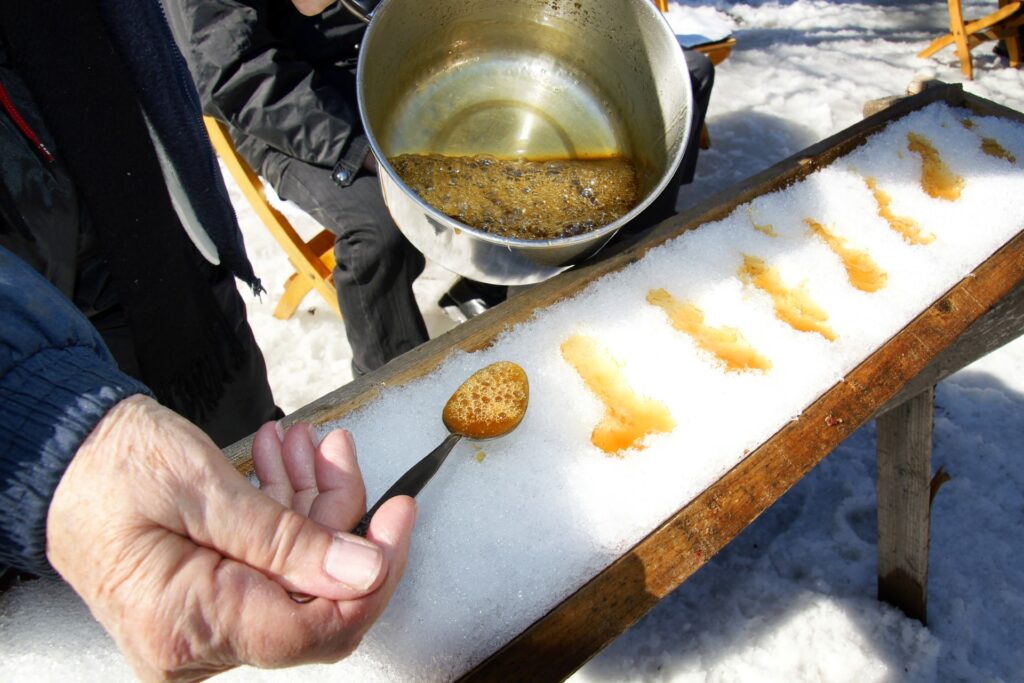 If you want some new ways to incorporate maple syrup into your food, check out these recipes from Pure Maple From Canada…
TikTok video of maple syrup train tour:
https://www.tiktok.com/@curatedkw/video/7073879407143783686?is_from_webapp=1&sender_device=pc&web_id=7076195774837261829 If you are interested in visiting a maple farm, go to todocanada.ca and search "25   Maple Farms and Sugar Shacks to Visit in Ontario
---
added