In "Dong Pha tap ky" by To Thuc from the Tong dynasty of China, there existed a story about eternal youth. A monk who lived at Tinh Tu Temple in Tien Duong was more than 80 years old, yet his skin remained ruddy and his eyes were as good as a youthful man's. Many people questioned him about his surprisingly good health and he calmly answered, "I have been eating ginger for more than 40 years, it makes me stay ageless." He also said that ginger can help to strengthen the spleen, warm the kidneys, invigorate the blood and provide energy.
In winter, ginger tea is a favorite drink to keep warm, and it is an unexpectedly effective medicine that can both prevent and cure many diseases.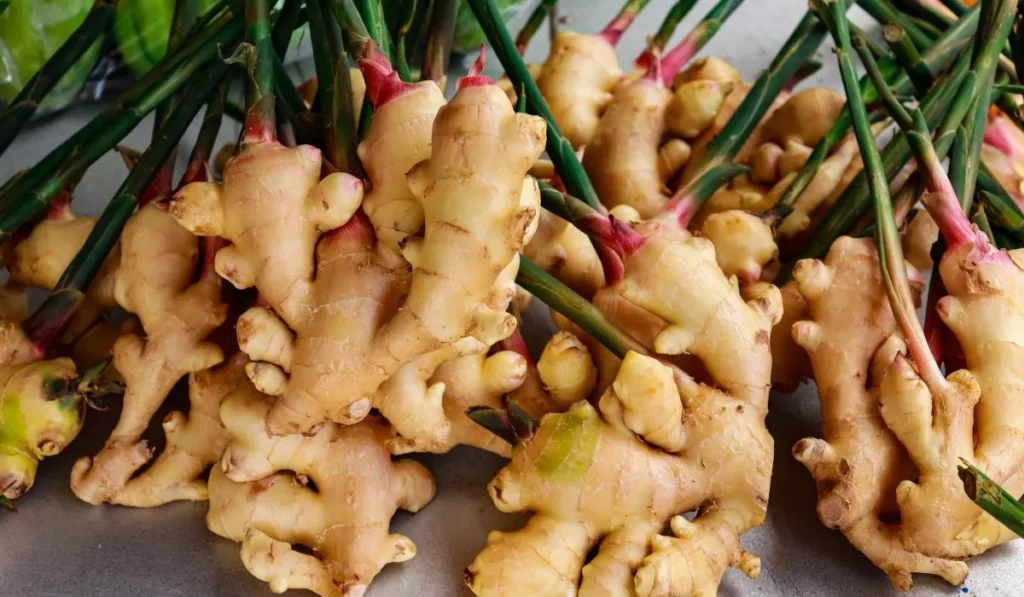 GINGER MEDICINE
Ginger is originally from Southeast Asia and is widely used in cooking and medicine. It contains more than 40 substances including oil, fatty acids, vitamins and minerals.
Rich in nutrition and vitamins: Recommended for daily use. Ginger is a rich source of minerals such as iron, magnesium, manganese, phosphorus, potassium, selenium, zinc and calcium. Ginger also contains a generous amount of vitamins A, C, B1, B2, B3 and B6. Zinc helps prevent colds, while vitamins A and C, which are antioxidants, play important roles in fighting illness. The vitamin B in ginger helps strengthen the immune system and helps the body to adapt to strenuous situations.
Anti-nausea, motion sickness: This is the most common use of ginger – anti-vomiting medicine. A cup of ginger tea also brings the same effect. Some researchers say that ginger powder helps relieve motion sickness, headache, dizziness, and nausea, with 90 per cent effectiveness that lasts up to four hours. Chew one or two slices of fresh ginger to safely reduce vomiting due to pregnancy, motion sickness, side effects of chemotherapy drugs or anesthesia in surgery. Ginger tea is especially effective in combating morning sickness for pregnant women. Adding ginger to your food helps you to absorb the food better and prevent flatulence and belching.
Respiratory Support: In winter, ginger tea helps your body remain healthy. Drink two to four cups of tea made with fresh ginger daily to clear your sinuses and limit mucus. Ginger has an anti-virus and antibacterial effect on the respiratory tract and drinking the tea can help cure persistent mouth ulcers.
Preventing colds: Put one slice of fresh ginger (4-6g) in your mouth, occasionally chewing it to release the bitter liquid. Do this on frosty days before going out, before bathing, or while working in a chilly environment. If you have acquired a cold, ginger tea can help discharge toxins through body sweat.
Relieving stress: Thanks to the cineole in ginger, people can relieve stress and migraines and have a healthy, refreshing sleep. Ginger also eases dental pain and discomfort caused by bacterial infection.
Reducing cholesterol in blood: Recent research shows that ginger effectively reduces cholesterol in blood, helping to prevent heart disease and hypertension. Many people mistakenly think drinking ginger tea will cause hypertension. That is not the case. It has been proven to boost blood pressure for people with hypotension, and prevent and lower blood pressure for patients with hypertension.
Supports heart and circulatory system: Ginger helps lower cholesterol and supports heart disease treatment. Ginger can help prevent blood clots. Reducing cholesterol and averting blood clots helps patients avoid strokes and heart attacks. Ginger has similar effects to aspirin without causing ulcers and stomach bleeding. Patients with heart disease should use fresh ginger daily. One slice (about 2g) at breakfast, lunch and dinner will allow them to stop using aspirin.
Stomach disorders: Ginger and ginger oil are often used in cases of stomach disorders. This is one of the best remedial measures for indigestion, colic, convulsions, diarrhea, flatulence and other issues related to the gut. Ginger tea is also used to relieve some stomach ache symptoms and provoke appetite.
Ginger and gallstones: Regular use of ginger will help prevent and treat gallstones. Gallstones are usually treated with surgery. A recent study of Japanese scientists found that spicy fresh ginger contained substances such as 6-Zingiberol and ginger oil which had a depressant effect on the what causes gallstones (when your liver excretes more cholesterol than your bile can dissolve). For those who have gallstones or are at risk for this disease, regularly eat more ginger and other ginger preparations.
Controlling diabetes: As recommended by medical professionals, ginger tea helps manage blood sugar levels.
Instant aid for arthritis patients: Ginger is considered a pain reliever for patients with bone and joint diseases. Patients can choose to drink ginger oil, ginger or apply ginger oil to the sore points for massage purposes.
Dysmenorrhea treatment: For menstrual pain, treat yourself with a cup of hot ginger tea. Tested on a group of women with dysmenorrhea, ginger had better effects than other painkillers and no side effects were detected.
Boosting the immune system: Ginger contains medicinal properties that help strengthen the immune system, enhancing cold resistance, cold tolerance and limiting inflammation. It also can eliminate symptoms related to the common cold virus and flu.
Anti-inflammatory: Ginger is proven to have anti-inflammatory effects. Many anti-inflammatory drugs cause a negative impact on the digestive system while eating ginger effectively prevents ulcers. Many arthritis drugs contain dried ginger rhizome. A study showed that most participants who used ginger to treat arthritis had remarkable results. Drink ginger tea or soak hands and feet in diluted ginger water for 15-20 minutes every day. This will help alleviate pain and swelling. The chemical composition of ginger helps inhibit the biosynthesis of prostaglandins that cause inflammation.
Alleviating headache: Chewing a piece of fresh ginger for about 30 minutes can reduce headaches and migraines.
Allergies: Ginger contains antihistamines, helping to alleviate allergies. When sneezing or having symptoms, the antihistamines inside ginger take effect immediately, quickly stopping the sneezes. Ginger has no side effects (dry mouth, dizziness, headache, fatigue) in comparison to other types of anti-allergic medicines.