Aurélia, Phuong-Anh Hoang is a French-born and Toronto-based wedding dress designer. Hoang showed interest in drawing at the age of 10 and aspired to be a fashion designer. At 17 she was inspired by the 1998 Alexander McQueen fashion show for Givenchy, and her interest in fashion continued after high school. Hoang studied Applied Arts in Lyon before enrolling in the prestigious Istituto Marangoni in Milan, where she graduated summa cum laude.
Hoang worked and trained internationally with top designers including Veronique Leroy, Isabel Marant, and Kenzo. After a friend asked her to design her wedding gown, she became involved in bridal fashion. In 2009, she launched her own label, Aurélia Hoang, which offers a variety of services, including ready-to-wear, and bespoke design, customized to a bride's personal taste. Hoang says her collections target a modern woman who is free from norms and conventions. The bridal gowns are made from high-quality materials such as Calais lace, silk crepe, and floral devore jersey, and are inspired by Asian and Western cultures. Hoang's goal is to redefine the traditional bridal look with this unique combination, creating gowns that are both timeless and modern.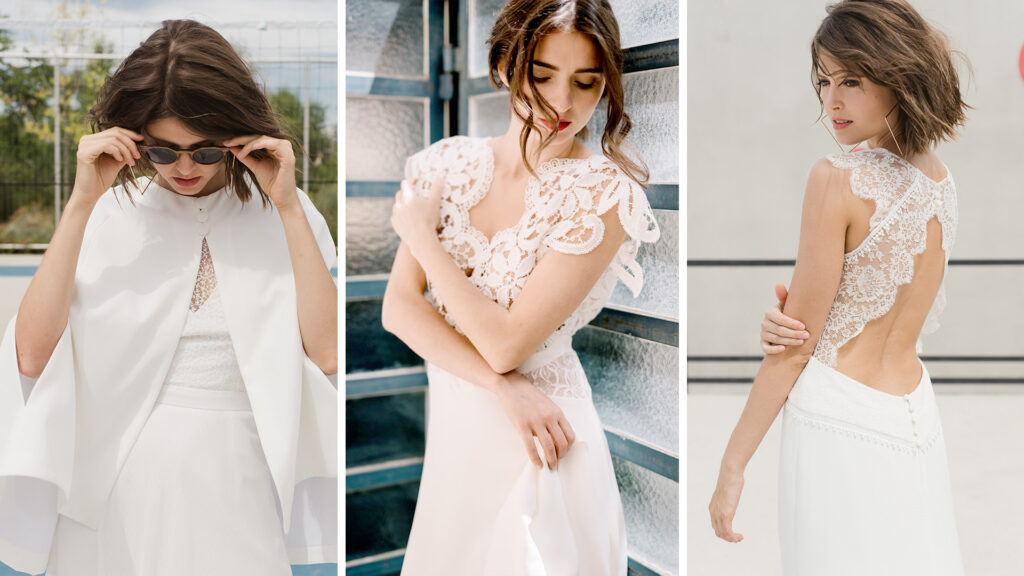 Tell us about your journey into bridal design.
I started in high end fashion. I never wanted to do bridal. I love Alexander McQueen, Kenzo, and Christian Dior. I was working in Paris when a friend asked me to make her wedding dress because I was a fashion designer and with basic sewing skills. I decided to embark on the bridal journey because I enjoy the relationships that can be formed on the way to a wedding. When my future husband and I moved to Lyon, I was one of the France's first alternative bridal designers, with new codes, a fashion sense, and a passion for working with authentic local fabrics. In late 2011, an article in a recognized blog propelled my brand Aurélia Hoang. I stop working for Kenzo and put myself entirely into the new venture.
Your personality shines through your dresses. How do your Vietnamese roots and French lifestyle inspire your design aesthetic?
The reason I didn't envision the traditional wedding with a white gown is because of my parent's wedding. In the 1970s, my parents had a non-traditional, multiracial wedding. It was super intimate, with the minimum number of persons required. My Vietnamese grandparents were already in the U.S., and were unable to travel. And my mom's father refused to come. My father was dressed in a velvet suit, and my mother, who is French, wore a green velvet ao dai.
I had this photograph of my parents at the wedding. It was very intimate, just them, dressed in green, standing in front of the master of ceremonies' desk. My parent's wedding caught my interest as a bridal designer. It was a kind of "anti-bride" way of doing things.
How has your fashion design evolved over the years? What is your all-time favorite collection?
I never followed bridal trends and traditional wedding codes. I showed what I wanted to wear, but just in a longer white dress. Working in bridal design gave me the opportunity to work with beautiful fabrics and learn about lace and different types of silks. My style was more "boho." I wore separate pieces to my wedding in 2012 because I could switch my long skirt with a short skirt for dancing later.
My collection, The Meaning of Lines 2018, was a turning point because I transitioned to a more sensual look. Even that photo shoot was more minimalistic. My 2017 collection, Just Like A Woman, was really folk. I became interested in the evolution of women in the 1960s and the way they dressed as they became more liberated. This history taught me what it means to be a woman, to be feminine, and to feel glamorous. The 2018 collection was a continuation of that. It was a reflection of femininity and maturity, with daring cuts and sophisticated details. I concentrated on shape and I like understated.
What lessons did you take from internationally renowned houses to develop your fashion identity?
When I worked with Isabel Marant she was boho, very folk, and drew inspiration from ethnicity. She had her own vision of a woman as fierce, independent, and daring. Kenzo was a big fan of pictorial art. His designs have a joyful, happy feel to them, which appeals to the wedding industry. That is evident in my work, which features an unexpected combination of fabrics, prints, and laces. With Veronique Leroy I learned how to work with volume and be very precise when drafting patterns. I gained confidence by experimenting with volume and visualizing the architecture of clothing. This is part of my fashion identity.
Tell us about your current collection and 2023 bridal styles.
I want to keep that slickness while confronting it with the vibration of volume and fabric. I want people to be able to touch it, and feel it. Silk is similar to skin. It's very soft, there are various textures. When I use organza, it makes you wonder how the fabric is made. How did it get so puffy? I want people to be able to feel the fabrics on their skin. On the front, you can see sleeves, a high neckline, and plain fabric. It seems very serious. But once you discover the back, and it's open with a deep V, it's surprising. I love that. I've always worked with contrasts, such as solids next to transparent fabrics. It is like the contrast between my two cultures. They are so different but can support each other when they want to. They are layered.
For 2023 you have more sheer fabrics. The historical aesthetic is apparent with ball gowns. You'll see statement elements such as bows or oversized flowers. However, there is a growing demand for unconventional styles. Separates, as well as short dresses, and rompers are becoming more popular. Sleeves are always a hit, regardless of shape, because they work so well with clean lines.
You mentioned that choosing a wedding dress is an emotional, intimate, and treasured adventure. How do you provide confidence on a bride's wedding day?
The dress makes you feel confident because you know it will be comfortable.
If you want a big train, but also want to dance later, make sure your train isn't too long or switch to something shorter. The dress is a part of you.
This is not the day to worry about your shoes or your lingerie. You have that figured out ahead of time. All you have to do is be yourself, but in a more elevated way, and you can embrace all of these happy emotions.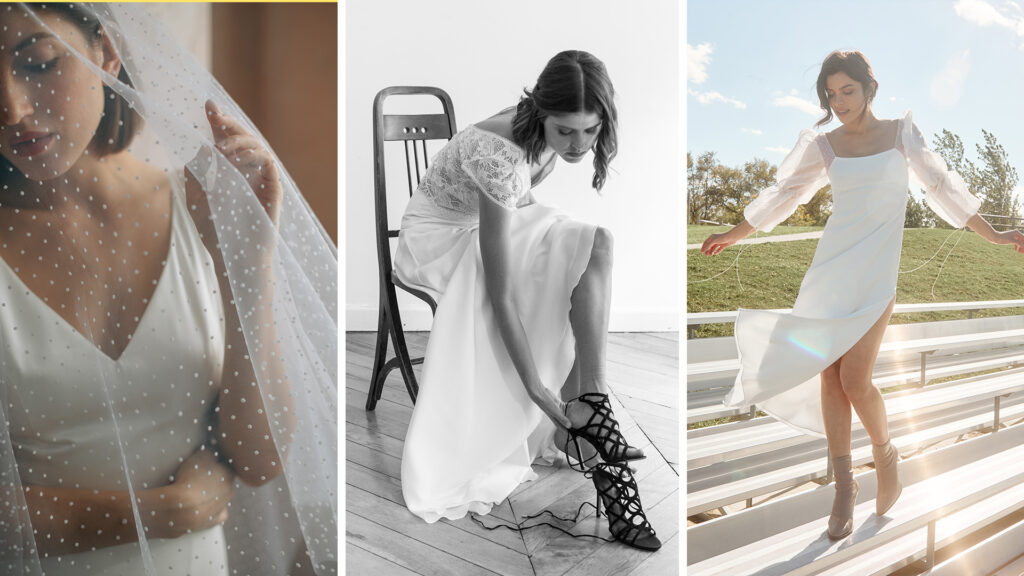 What advice would you give to aspiring bridal designers?
Your DNA is your identity. What do you want at the core of your business? You can't build a brand without having a clear identity. And stick to it. I had so many people at the beginning say, "It doesn't look like a bridal dress." Nevertheless, I knew my vision had an impact on others, and I believed in it.
I needed a showroom, and a small, intimate space. Like going to see a personal stylist in a department store and being seated in a private room.
Despite the comments of other vendors, I got it. You should create a space where you feel good, and creative. This brings positive energy to your work.
Stick to what you have in mind. Don't let people tell you what you should do.
Take the advice of people who are knowledgeable about fashion or the wedding industry. Listen to experienced minds rather than uninformed opinions.
How long does it take for your dresses to be completed?
When it's a standard size it can be completed in a month. My designs are always made to order. If I have to order the fabric from France or Belgium, that would take longer. For bespoke, I need 6-10 months with three fittings.
Where can our readers reach you?
I have my showroom next to Greektown in Toronto. I offer private consultations for wedding dresses, bridesmaids or mothers of the bride. As well,I sell accessories such as shoes, veils, sticky bras, jewelry and headpieces. I also do virtual meetings with international clients. In France, you can find my designs at a boutique in Nantes.