After topping UBS's Global Real Estate Bubble Index last year, the city of Toronto fell in the 2023 rankings to assert its position as the seventh-riskiest urban housing market in the world.
In this year's edition, Toronto still surpasses Los Angeles, London, Paris, New York, Dubai, and Vancouver to become one of the most highly valued housing markets on the planet.
Previously, Toronto ranked third on the list in 2020 and second in 2021. This marks the first time in seven years that the city has been classified as overpriced rather than at risk of a real estate bubble.
In this study, a Swiss asset management company analyzed residential property prices in 25 cities worldwide. In this year's report, only two cities—Zurich and Tokyo—remain in the bubble risk category, down from nine cities the previous year.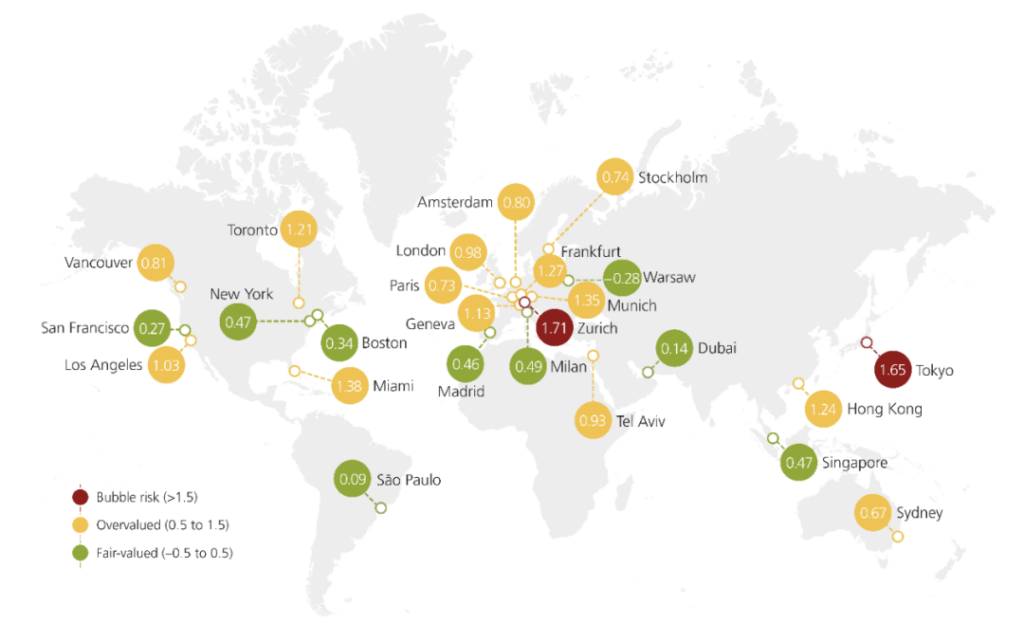 Toronto was previously in the bubble risk category along with Hong Kong, Vancouver, and Amsterdam, all of which have seen a decrease in imbalance and are now classified as overpriced.
In Canada, a combination of population growth, attractive financial conditions, high investment demand, and a lack of urban housing supply has propelled housing opportunities in Toronto.
From mid-2019 to mid-2022, real estate prices in Toronto rose by 35%, while the high demand for living spaces has put pressure on the rental market.
According to the report, Toronto has shown "signs of a housing market recovery in the spring with increasing transaction volumes and positive price growth." However, it's still "too early to speak of changes in the context of the recent interest rate hike by the Bank of Canada."
Below is the list of the top 10 cities featured in the UBS Global Real Estate Bubble Index for 2023:
Zurich
Tokyo
Miami
Munich
Frankfurt
Hong Kong
Toronto
Geneva
Los Angeles London