Tobermory is renowned for its white limestone shorelines and turquoise waters. A four-hour drive from Toronto, it is located at the northern tip of the Bruce Peninsula, which juts out between Georgian Bay and Lake Huron. The peninsula is part of the traditional territory of Saugeen Ojibway Nation. Near the town, there are two National Parks to explore. Summer is the most popular time to visit the parks; however, if you'd like to avoid the crowds but still experience all the Bruce Peninsula has to offer, aim to stay in late spring (early May to June) or early fall (September to Mid-October) during the off-season.
During the winter, some experiences are unavailable, including the Halfway Log Dump trail in Bruce Peninsula National Park and Flowerpot Island, which is only accessible by boat during the late spring, summer and early fall season.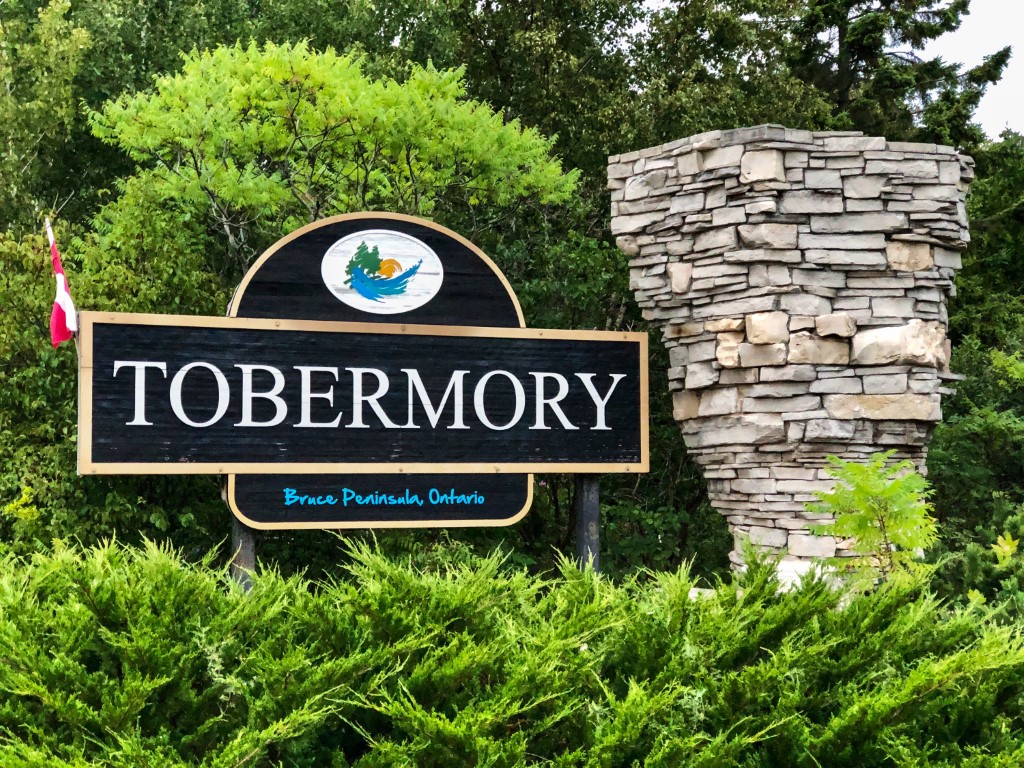 To plan for a weekend visit, make sure you depart for Tobermory on Friday, as the commute is approximately four hours from Toronto. A weekend visit is the best way to experience the National Parks and Tobermory's idyllic charm fully.
The first stop on your trip should be the Visitor's Centre in Tobermory. It offers exhibits, a theatre, a lookout tower with views of the Bruce Peninsula, trail maps, parking reservations and tourist information. For more information and accommodation suggestions, visit https://visittobermory.ca/where-to-stay/.
Saturday (Day One)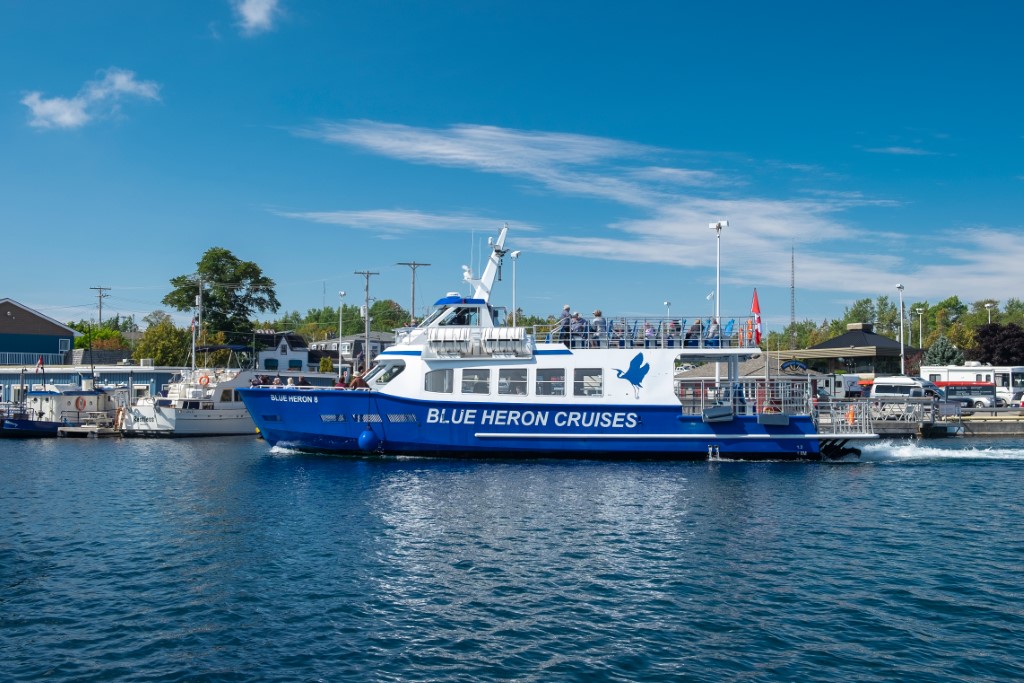 Take a boat tour to Flowerpot Island: Located in Fathom Five National Marine Park, Flowerpot Island – named for its unusual 'flowerpot' shaped rock pillars – is accessible only by boat and is 6.5km from Tobermory. Two private boat tours are offered to access the island during the summer, with limited availability during the off-season—from May 7th to June 10th and September 19th to mid-October. Each cruise line offers glass-bottomed boat tours for riders to observe the sunken shipwrecks of Fathom Five National Marine Park and see a glimpse of the Big-Tub Lighthouse on the route. Have your camera ready.

Details about the cruise lines are on their websites:
https://cruises.bruceanchor.com/
https://blueheronco.com/
Considered an 'adventurer's paradise,'
Tobermory and the Bruce Peninsula make for the perfect weekend getaway for those wanting to experience the natural beauty of Canada.
Flowerpot Island: There's a hiking trail, picnic shelter, composting toilets at Beachy Cove (located at the main dock and the light station) and the island's historic light station maintained by the Friends of Bruce District Parks. Bring durable footwear (hiking boots or shoes), sunscreen, a hat and plenty of water as there are no refill stations. To experience most of the island, allow four to five hours. Pack a picnic and make it a day's excursion.
For more details: https://www.pc.gc.ca/en/amnc-nmca/on/fathomfive/activ/flowerpot.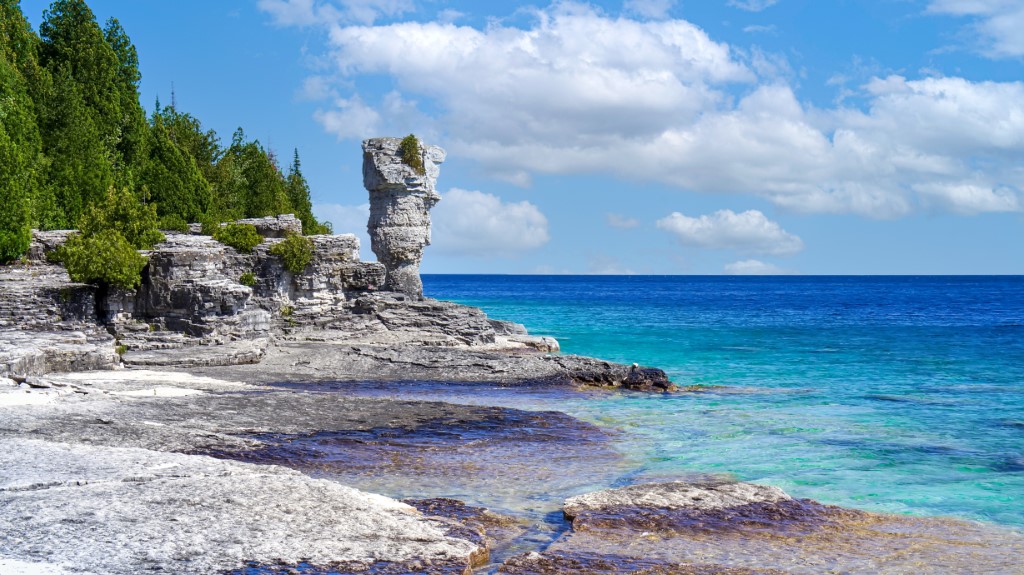 Spend the evening in town: This quaint town offers a variety of shopping and dining experiences to try during your visit. Conveniently located right as you step off the docks from your trip back from the island, the Mariner Charter Shop offers unique souvenirs to commemorate your visit. Afterwards, enjoy a dinner overlooking the harbour at Tobermory Brew Co. & Grill, home to some of the area's finest locally crafted brews and open all seasons. It is important to note that many of Tobermory's shops and restaurants shut down during the winter, so plan your visit accordingly.
Sunday (Day Two)
Bruce Peninsula National Park: 5km from Tobermory and about a 3-5 minute drive, the park is home to popular sightseeing destinations, including the Grotto and some of Canada's oldest forests which date to the early 1900s. Spanning 155 square kilometres, the Bruce Peninsula's famous limestone cliffs and turquoise waters offer plenty to see for a half day's excursion. In advance of your visit, it is best to reserve a parking spot to visit the park's most popular attraction, the Grotto. Upon arrival, you must show a copy of your parking reservation and valid identification.
To reserve parking, you can book online at www.reservation.pc.gc.ca or call 1-877-RESERVE.
For further details: https://www.pc.gc.ca/en/pn-np/on/bruce/activ/emplacements-locations/parking.
Each parking reservation is only valid for four hours, so it is best to organize your day at Bruce Peninsula National Park appropriately.
If you plan to visit the park in the winter, expect limited parking options; only parking lot 2 is open during the season.
The Georgian Bay Marr Lake Trail is the quickest path to see the Grotto and other popular attractions and takes approximately 1 to 3 hours to complete. It is best to plan for early arrival so you have ample time to commute home in the evening.
What to do: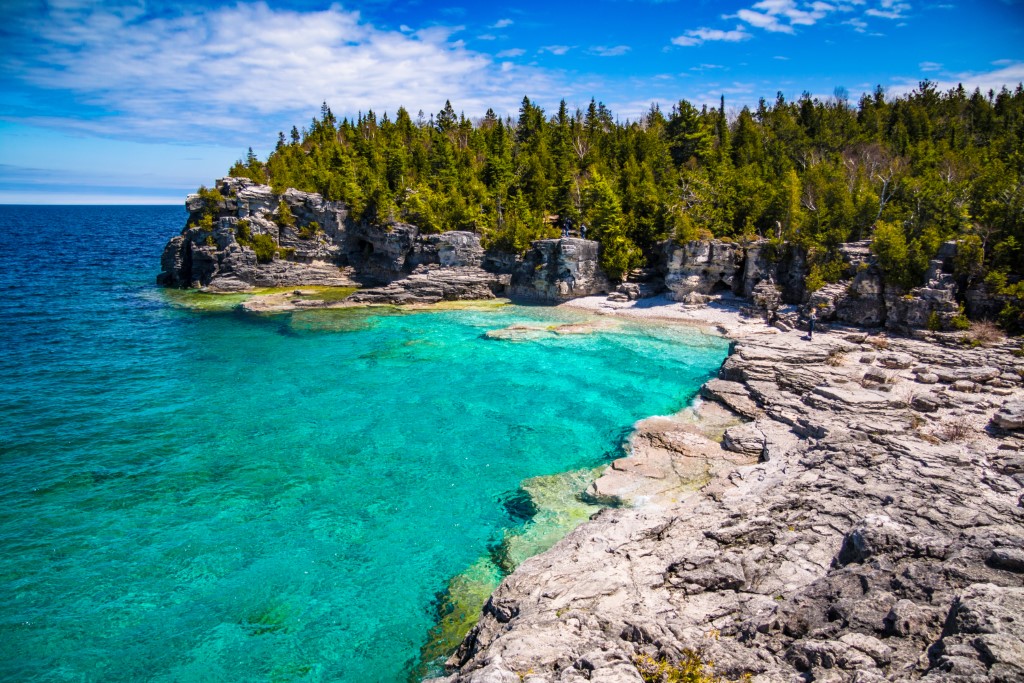 Visit the Grotto:
The Grotto is a cave famous for its natural pool of turquoise water and draws hundreds of thousands of visitors annually. Crowded during the summer, the best time to visit is late spring and early fall.
Indian Head Cove:
Located next to The Grotto, Indian Head Cove is a short walk and boasts flat limestone rocks and Caribbean-like turquoise water. It is a popular spot for swimming if you are okay with the brisk temperature of the water and a beautiful place to rest. Pack some light snacks and sit on the flat rocks for a picnic as you enjoy the horizon's view before returning to your vehicle to end your day.
For more travel information: https://visittobermory.ca/