On a recent trip to Vancouver, I learned to see the city a little differently.
I was trying out two downtown hotels during my stay. The JW Marriott Parq Vancouver was sleek and subdued. Next door the Douglas, also owned by Marriott, was upscale with a warm, woodsy air.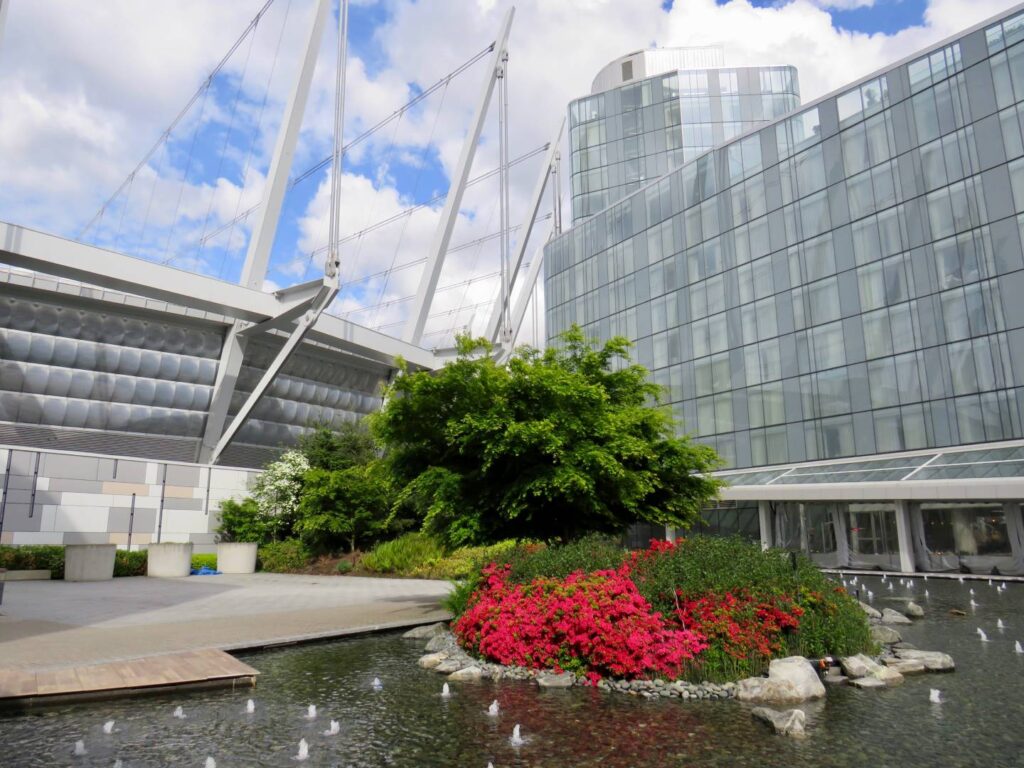 "The JW is like the father and Douglas is the son. JW says he'll take the helicopter up nearby Grouse Mountain while Douglas says he'd like to go on foot, hear the birds, and enjoy nature. Both get to the top and they can enjoy the clouds together," explained Melynda Loder, director of sales and marketing for the side-by-side properties.
I met Loder at a dinner for a few journalists where Executive Chef Kunal Dighe dazzled us with BC Caviar, Dungeness crab, and cedar planked sablefish. Dessert was a decadent dark chocolate souffle.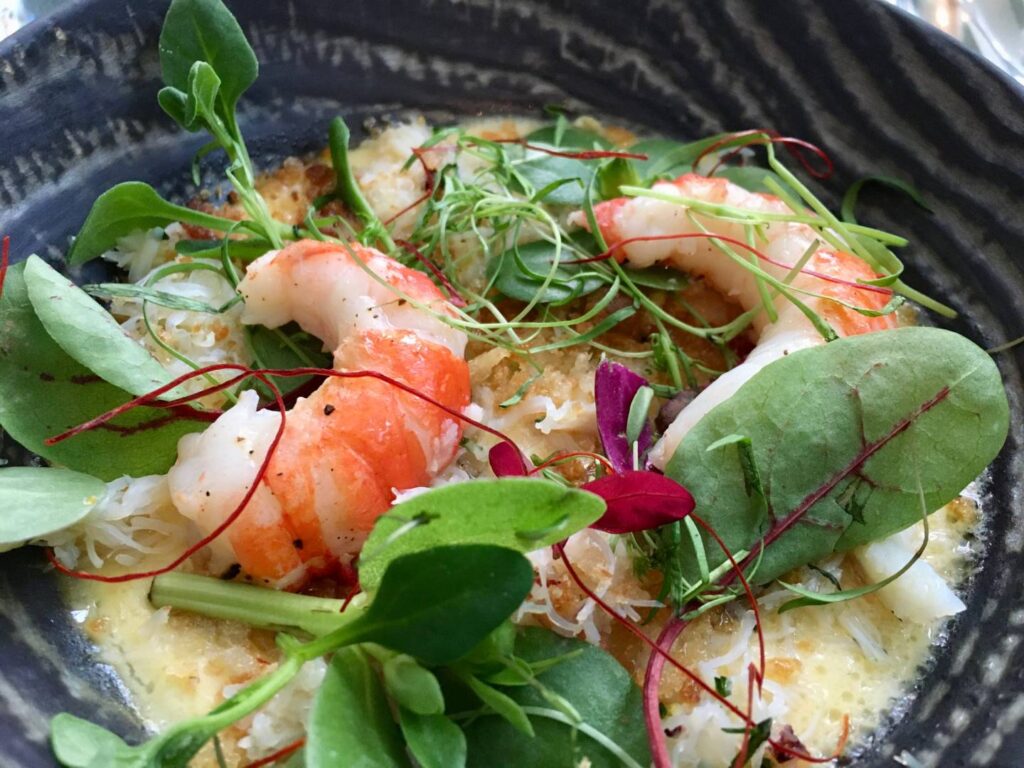 The two hotels are connected to the Parq Vancouver Casino and despite my jet lag I decided to try my hand at the slots. Two pulls and I walked out $65 richer.
The next morning, I headed to Granville Island for a 90-minute City and Seals tour. After wiggling into a red floatation suit and receiving a safety talk, I hopped into the Zodiac. As we zipped along the coastline of English Bay, Paul Martin, our guide, pointed out Lions Gate Bridge. He explained it had been built by the Guinness family in 1938 to access their property on the North Shore. In 1955 ownership was transferred to the province. "Many wealthy British families owned property here. The Duke of Westminster still is a major land owner in downtown Vancouver," he explained.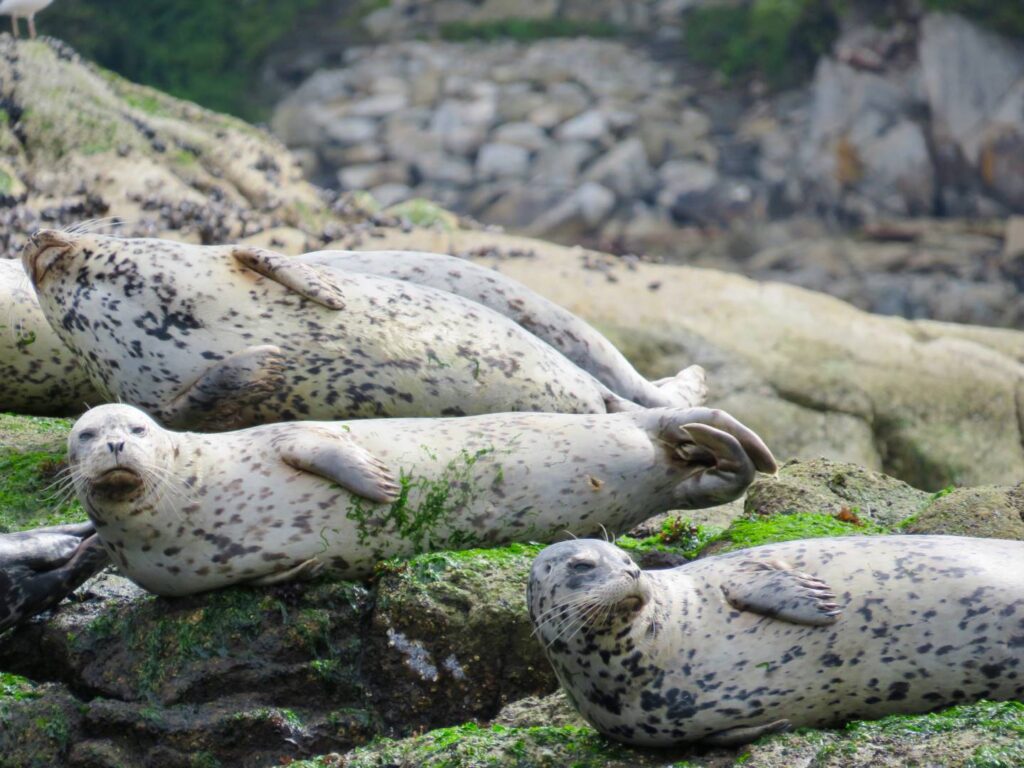 The thing that stuns me about Vancouver is the proximity of nature. As we bopped past moored freighters waiting their turn to unload cargo, I spied dolphins a mere 10 meters from our boat. Looking at the green coastline, Martin pointed out bald eagles circling the tree tops. After taking shots of Lighthouse Park, we slowed down to look at a rock covered in sunbathing seals.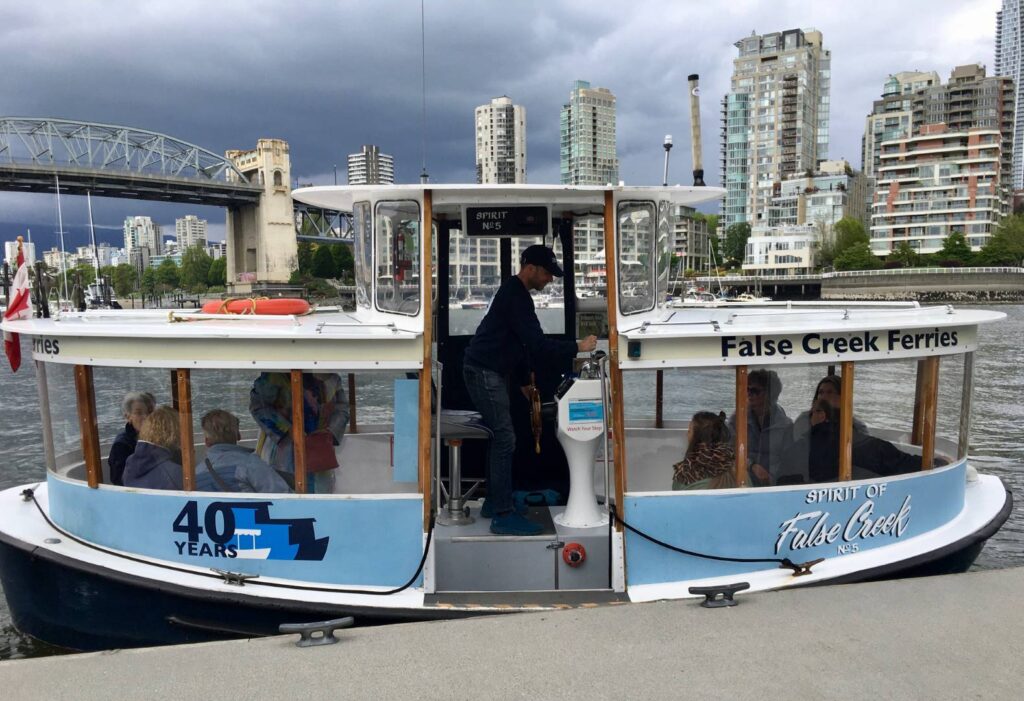 As we headed back to land, Martin told us that human interference had ruined the spawning grounds of herring in False Creek. But he left us with a piece of good news.
"Squamish Streamkeepers and other groups have re-established conditions for the eggs to survive. Herring are an important food source for dolphins."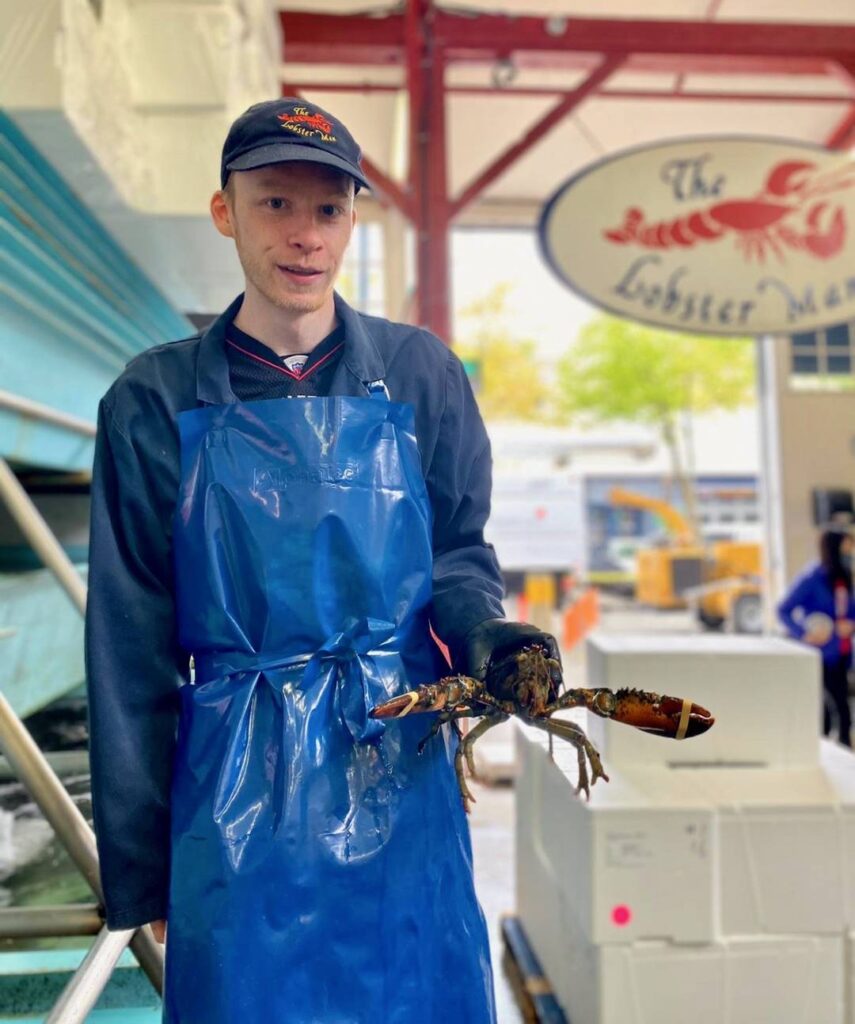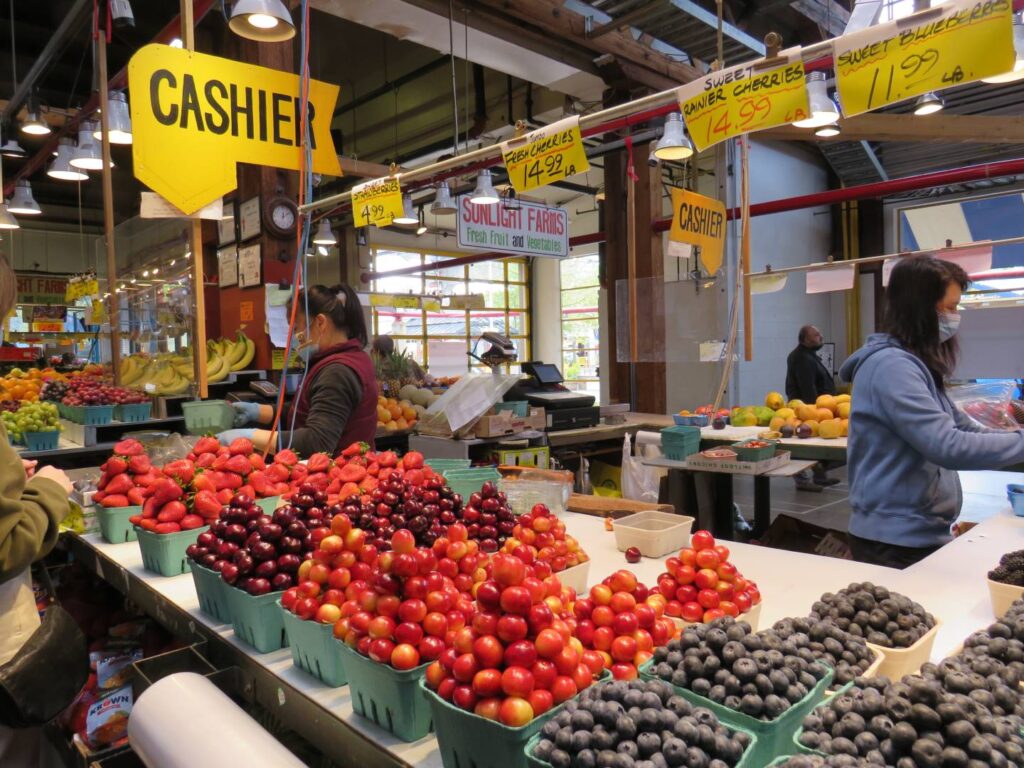 False Creek also has an important site for hungry humans. Anjela Maypantay, a guide with Vancouver Foodie Tours, took me on a stroll through Granville Island Public Market. Our first stop was A Bread Affair, an organic, artisanal bakery started by an Ontario couple who traded jobs in the tech sector for the yeasty life. My favourite was Sweet Tart bread, sprinkled with dried cranberries.
Benton Brothers Fine Cheese also had an interesting back story.
"It was started by brothers Jonah and Andrew who were formerly engineers but loved cheese. Now they carry types from around the world," explained Maypantay.
The owner of Oyama Sausage was named the World's Most Diverse Meat Man by the New York Times and specialized in the German curing tradition. At Longliner Seafoods we tried maple candy salmon nuggets and smoked lox while at Lobster Man I indulged in a Dungeness crab roll.
"Granville Island used to be industrial but in 1960 it changed and now six million visitors visit every year," said Maypantay.
We were not the only hungry ones at the market. Outside seagulls can be real pests and have been known to snatch pizza out of a visitor's hand. Goose is a Harris Hawk who makes daily rounds with his keeper to scare away the gulls.
The west coast is known for its magnificent Douglas fir trees (inspiration for the Douglas hotel) so a visit to Capilano Suspension Bridge was a must. Located in North Vancouver, the bridge opened to the public in 1889 and is the city's oldest attraction. Updated many times over the years, it is no longer a quivering construction of cedar planks and hemp rope. Today the swinging mass of steel cables can hold 90,000 kg, or the weight of 96 elephants.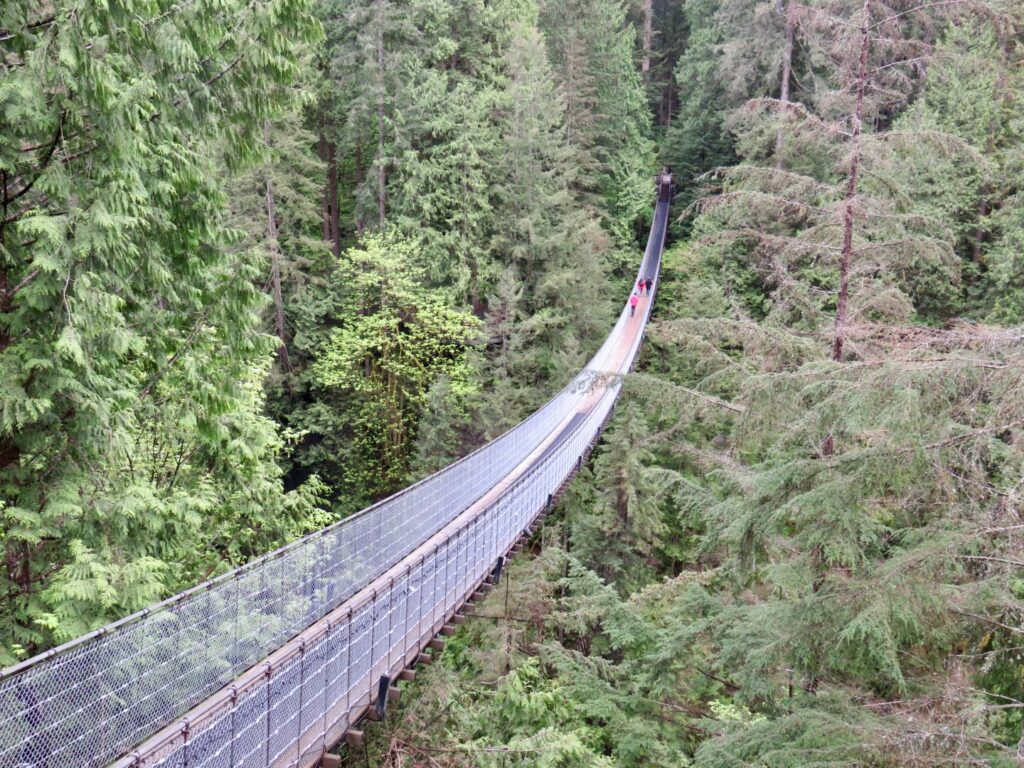 "It was originally called a laughing bridge because of the squeaks it made," explained Stacy Chala, the site's communications manager.
As well as the bridge, the site offered a treetop adventure with seven mini-suspension bridges and Cliffwalk, a walkway overlooking the Capilano River.
For my final urban excursion, I headed to the Chinatown Storytelling Centre which opened last November. I knew that Chinese workers had built much of Canada's railways and the centre offered a glimpse into their lives.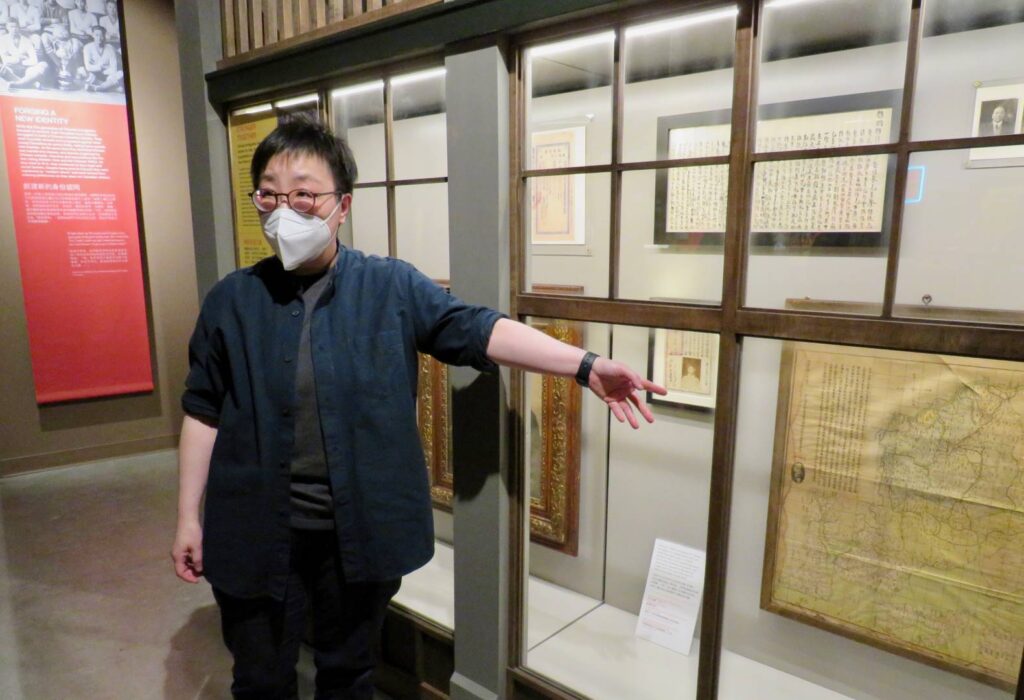 "This is not a museum but a place where history and stories are shared," explained Suzanna Ng, head of interpretation and content development.
The first male Chinese workers were brought to BC in the 1780s to build a trading post. By 1858 large numbers came up from California to try their luck during the Gold Rush. In 1880 more workers were brought in to construct the Canadian Pacific Railroad (CPR).
"They were paid less than white workers and given the most dangerous tasks. Many died," said Ng.
By 1885, 17,000 Chinese laborers had completed the BC section of the CPR. It is a sad fact that their contributions were not acknowledged and even for the ceremonial "last spike" photograph taken at the railroad's completion, all Chinese workers were cleared from view.
Vancouver now has a vibrant Chinese community, but I found the stories of these early immigrants difficult. They had no money to go back to China, head taxes were imposed on family members who might want to join them in Canada, and from 1923-1947 the Exclusion Act banned all Chinese immigrants with exceptions for diplomats, merchants and students. Chinese immigrants only got the right to vote in 1947. By 1967 a new immigration act allowed them to bring in their families.
I had my eyes opened during this trip to Vancouver, not only to the city's urban/natural appeal but also to the reality experienced by early newcomers.
As author Henry Miller once said, "One's destination is never a place, but a new way of seeing things."