Born in 1922, Trí Huệ grew up in a royal family of the Nguyen Dynasty (1802-1945), where "Công Tôn Nữ" was her title as the Duke's granddaughter. Trí Huệ was a great-granddaughter of King Minh Mang. She was also the grandchild of Hoài Đức Quận Công Nguyễn Phúc Miên Lâm, the 57th son of King Minh Mạng, who assisted King Hàm Nghi and King Thành Thái.
Her family was well-known for its medical expertise, but she took a different path. At the age of 17, Trí Huệ entered the Huế Citadel to learn sewing and embroidery. Like other Công Tôn Nữ, she had the opportunity to become familiar with hand-crafted arm cushions that served the royal family. During her nine years in the palace, Lady Trí Huệ not only made arm cushions but also sewed clothes for the Empress Dowager Đức Từ Cung, the mother of King Bảo Đại. The cushions made by Trí Huệ were greatly appreciated by Đức Từ Cung and King Bảo Đại, and often the king would ask her to make these signature pillows as gifts.
In 1992, Trí Huệ's family returned to farming. Due to financial difficulties, they started sewing traditional long dresses, áo dài, for a living. Since no one needed cushions anymore, Trí Huệ only used leftover fabric to make cushions to remind her of her craft.
Out of respect, the locals called Trí Huệ "Mệ," a term for "Mother" in the regions from Thanh Hóa to Huế. Mệ Trí Huệ was a rare person who understood and preserved the techniques of making these special cushions, one of the unique cultural and historical traditions of the royal palace.
Mệ Trí Huệ peacefully passed away this past March. In her final years, she lived with her eldest son in Huong Toan commune, Hương Trà Town, Thừa Thiên-Huế Province. For locals, Mệ Trí Huệ was not just a royal descendant. They remembered her as a talented artisan who was passionate about making royal cushions and wanted to pass on her craft to future generations.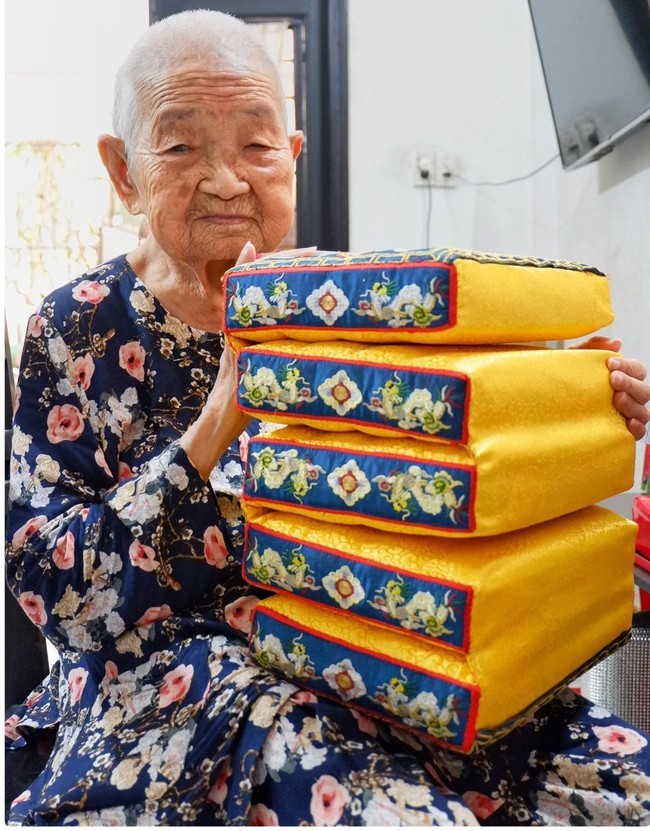 The profession of making royal support cushions in Hue court
Armrest cushions, also known as folded pillows or leaning pillows, were widely used in royal palaces and by the nobility. They have many folds that can be opened and closed as desired. Kings and courtiers used them to rest their heads, lean back while reading books, rest their hands while sipping tea, composing poetry, or discussing state affairs.
The pillows are done by hand, following strict regulations. From selecting high-quality brocade fabrics and various types of cotton or stuffing, to embroidering intricate patterns and designs, each step is carried out meticulously.
First, the fabric is cut to size, then sewn into squares. Next, cotton is stuffed into the square corners and sewn together, forming five leaves, which are then covered with fabric. As a rule, the king's armrest cushion consists of five leaves, is yellow, and embroidered with dragons, symbolizing power. The support pillow of Hoàng Thái hậu (Empress Mother) and the mandarins has four leaves, and the colors and patterns can be selected according to the color of the chair. The important thing is that there are no excess stitches visible on the entire pillow.
A complete support pillow measures 29cm x 18cm x 30cm and weighs nearly 2.5 kg. Creating a support pillow can take from 7-10 days and the average price is 1.8 million VND.
In addition to its historical and cultural significance, the armrest cushion also has the meaning of seeking blessings and good luck. The basic traditional support pillow is composed of five leaves that are blue, red yellow, white, and green. These correspond to the five elements of life ­– birth, aging, illness, death, and rebirth. The first two colors are both 'xanh' (blue/green), a clever play on words with the word birth (sanh, or sinh) in Huế accent.
These royal pillows are a powerful symbol of the cycle of life… and rebirth.