First Runner Up Miss Universe Vietnam 2022, Thao Nhi Le is the founder of Daphale Studios and DPL BASIC, a clothing company aiming to empower women. Le is 27 years old, born in Germany and currently lives in Vietnam. She attended Reutlingen University for International Fashion Retail and immersed herself into the fashion scene in 2013 as a Youtuber and blogger capturing lifestyle, travel, and beauty. Today she has 714k followers on Instagram and 98.3k subscribers on Youtube.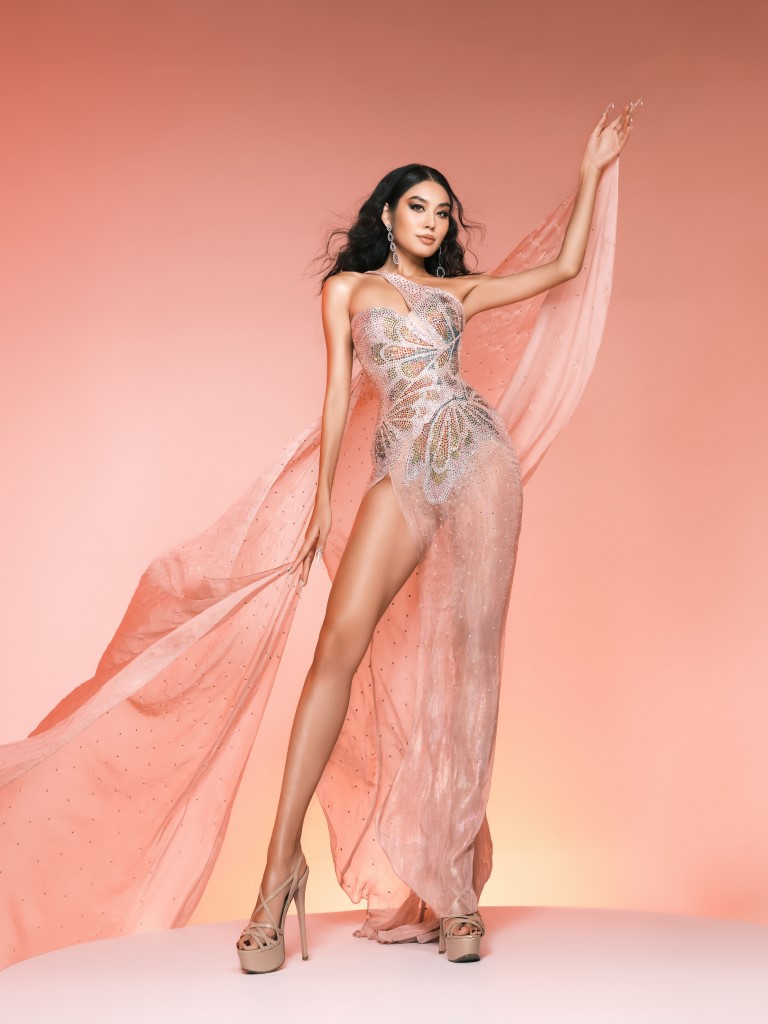 Thao Nhi Le #311 wearing traditional Ao Dai for Miss Universe Vietnam 2022. Courtesy of Kha Trần.
Why did you decide to run for Miss Universe Vietnam 2022? What legacy do you want to leave behind to young Vietnamese girls?
I have been a passionate fashion influencer for a very long time. And I'm also running my fashion brand Daphale Studios. Even though I moved to Vietnam four years ago, I felt like I needed a bigger platform to spread positivity for young women. I felt like Miss Universe would be that platform to raise my voice and share my message – how to be positive, love yourself, and be authentic. This year the focus of Miss Universe was authenticity and being a woman. I hope the legacy to leave behind is helping women to be themselves by being more confident and independent in our daily lives.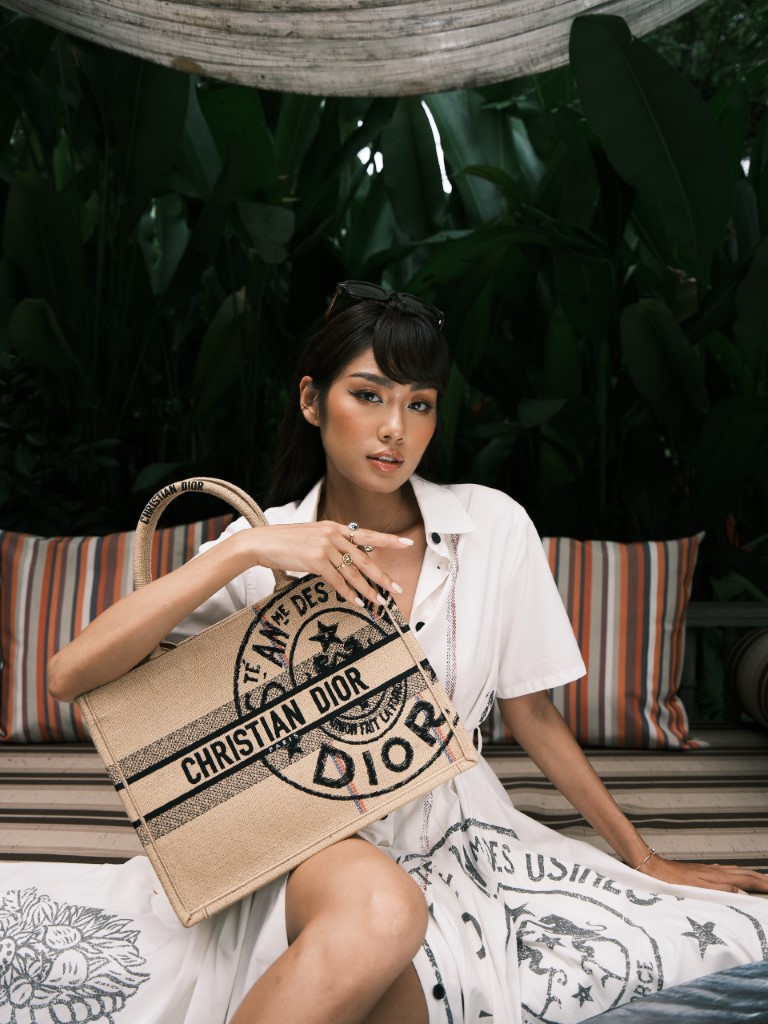 Thao Nhi Le dressed in white Dior dress paired with a beige Christian Dior bag at An Lam Retreats Saigon. Courtesy of Manh Bi @manhbi.
As an Instagram influencer and Youtube vlogger, what role do you think social media plays in fashion today?
It plays a huge role. For myself, as a fashion influencer and business owner, Instagram is a place to inspire people, and get inspiration as well. I think the fashion industry without social media, especially Instagram or Pinterest, would not work at all.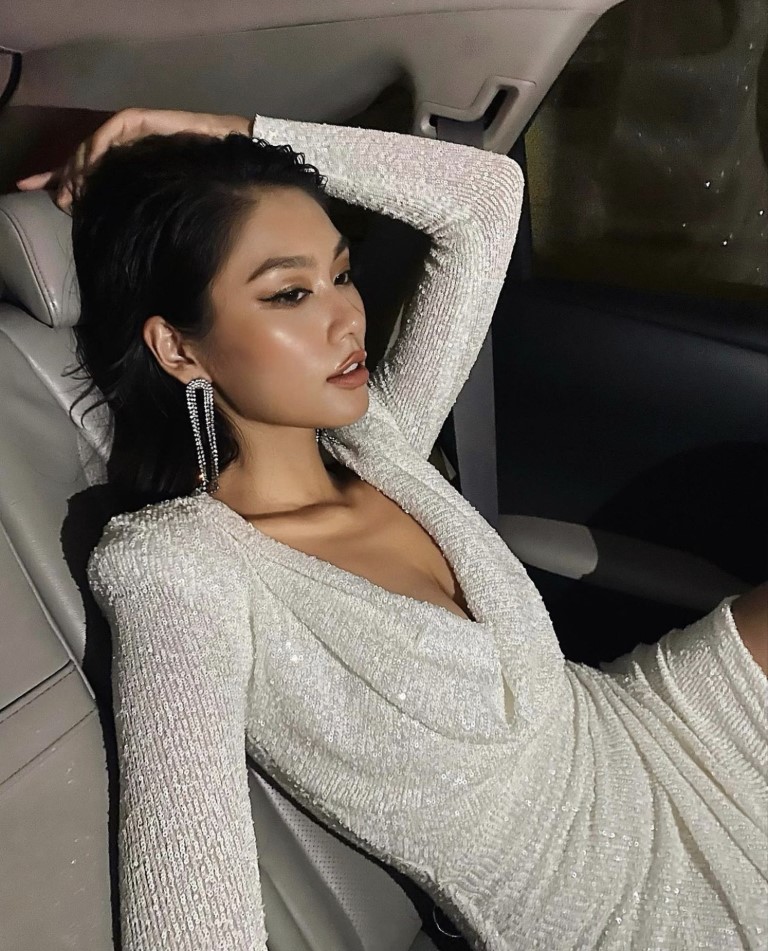 Thao Nhi Le dressed in an evening gown from an Australian brand NOOKIE @loveNOOKIE and earrings from a Vietnamese local brand Floralpunk @floralpunk. Courtesy of Xuan Ai @babiembe.
How have you integrated those cultures into fashion?
I'm a Vietnamese girl born and raised in Germany. My whole life in a fashion sense was very Westernized. Until four years ago when I moved to Vietnam, I had this status of being a Western girl. Now I find that I can inspire young women in Vietnam to be more confident, and sexy, not afraid to take risks. I feel like it's a good mix, like being a little bit Westernized and Vietnamese.
Who is your favorite fashion muse (fashion designer) growing up? How has it influenced your designs?
To be honest, I don't think I have a specific fashion designer that inspired me in my journey. I honor every style there is, you know what they say, there is beauty in everything. However, I do have a favorite stylist ever – my grandma. She is over 80 now, but has an exquisite eye for fashion. And she has contributed so much to Daphale as a fashion advisor. She truly is my muse.
Growing up in a traditional family household, what lessons were instilled in you that made you become the person you are today?
My parents always taught me that family is everything. I can always rely on a source of emotional support that got me through so many hard times in my life. I truly feel like I cannot be the person that I am now without my family being there for me. Remember your roots, where you come from, love your family, and be grateful. That is the lesson that I bring with me through thick and thin.
As many second generation Vietnamese can relate, learning Vietnamese can be hard when you're living in Western country. How has learning Vietnamese impacted your life?
Learning Vietnamese is indeed quite difficult at first, but the more you get to know the language, the more you will adore it. My parents used to make me and my siblings talk to each other in Vietnamese when we were kids. We did not like it at first due to all the tones and similar words with different meanings, very different from German. But then as we grew older, we just felt at home whenever we spoke the language. I think the best way to learn a language is to have friends and family to help you practice. They can help you learn about the culture to get more insights.
You relocated your life and business to Vietnam a few years ago. What are the challenges you face in starting your own business in Vietnam? How were you able to find support in operating Daphale Studios?
When I moved to Vietnam, I didn't know many people. I experienced a language barrier and it was very difficult for me to communicate. Western Germany has a different culture and work ethic. In the beginning, it was very difficult to adapt to a new culture, work ethic, and speak the language. But I was really lucky to meet the right people that supported me. A guy who was one of my best friends helped me to find factories to do whatever I wanted to do by sourcing the fabrics and teaching me so about the Vietnamese fashion industry. I'm thankful for all the people I met that helped me to pursue a dream. Even today, I have so many amazing people like my manager, assistants and even my grandma who inspire me every day to do better. There are days when I feel down and give up everything. But then the next day I woke up and said no, you're not going to give up now because you already moved to Vietnam. I ask myself, Why did you ever start? What's the reason why you started? That keeps me going. Now I feel like I accomplished so many great things and I'm thankful.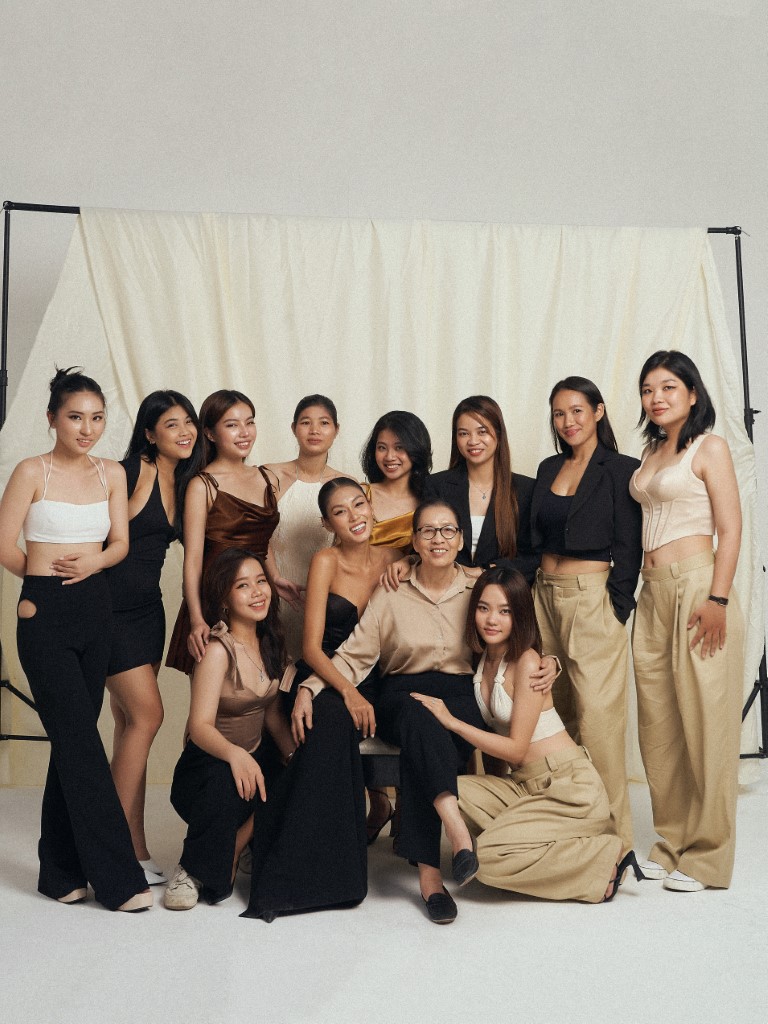 Daphale team photoshoot. Thao Nhi Le (located on the second row, second person to the left). Courtesy of Lam Nguy @lamnguy6 and Hung Phung @hungfung_.
What advice would you give to any Vietnamese fashion clothing brand owner to start their own business?
The most important thing is being passionate about it. I know many people around me who love fashion. But to open and run a whole business, there's much more involved.If you're not passionate about fashion, you will not overcome other brands. You need to have a sense of style and brand identity so you can stick for the long run. You have to be consistent.
Where do you hope to be in five years?
I would see myself keep doing what I'm doing right now just on a bigger scale. I would keep inspiring women around me to love themselves and be independent. Just shine bright. I want to continue as an influencer, fashion brand, and do more talk shows. I'm open to whatever comes. I feel like there are so many things out there that I can try. And for my fashion brand, I want to grow and offer different products so women can shop confidently and feel inspired.
What's your must have clothing item everyone should have?
A piece from Daphale Studios 😉
Is there anything you would like to share with the audience?
We women are strong and have our good times and bad times. But at the end of the day, you must believe in yourself. As long as you believe in yourself, you can do whatever you want.
Where can our readers find you? And where is the store located?
You can find me on my social media, I am on almost everything from Instagram, Facebook, to Tiktok or Youtube. If you are in Vietnam, you can come to 272C Pasteur D3, or 22 Dang Thi Nhu, D1. My online store can be found Daphalestudios.com.