A "raw pearl hidden in the middle of the sea" is what Binh Thuan locals call the island of Phu Quy. This is because the island is 120 km from the mainland and is a big challenge for tourists to visit. The most remote island of Binh Thuan province is a peaceful, poetic space that has preserved the wild features of sea and land.
Phu Quy Island is also known as Thu Isle or Khoai Xu Isle. It used to have an area of about 21 square kilometers and was home to about 33,000 people. Due to erosion, it is now only 16 square kilometers in size. The island has three communes ¬– Tam Thanh, Long Hai and Ngu Phung. Tam Thanh commune is the most developed economic center, and has a passenger port that attracts tourists. Ngu Phung is an administrative area in the middle of the island. Long Hai is located at the back, quite far from the center, and is the most deserted and wild.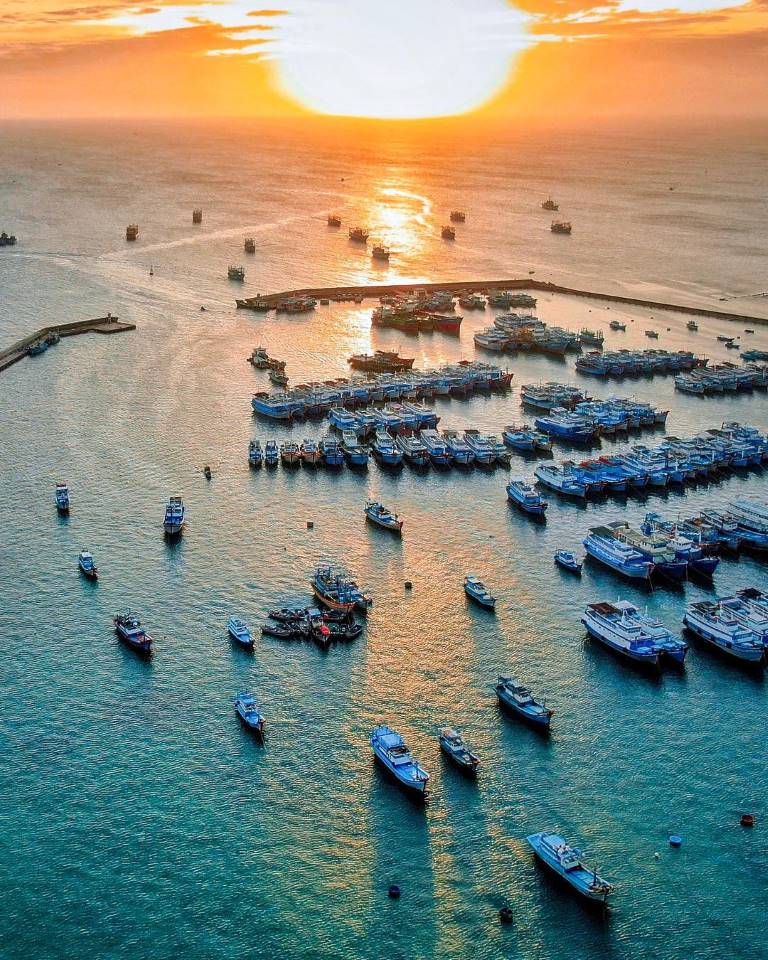 When should you go?
The island's climate is fresh and cool all year round. Storms mainly occur from September to November, so the most suitable time visit is from December to June. In spring and summer the sea is calm and the wind is light, ideal for also seeing neighboring islands.
A good time to visit is during the full moon (14th and 15th of the lunar calendar) or on the first day of the lunar calendar to see the coral at low tide.
How do you get there?
From Saigon, take a car or bus from Thanh Buoi or Phuong Trang to Phan Thiet city. Then take a taxi to Phan Thiet port. Since you can only get there by water, you need to buy ferry tickets at the port. There are two docks, so ask which one has the ferries that go to Phu Quy island.
The ferry companies are Superdong, Hung Phat, and Phu Quy Express. Normally, they operate from 6:30 a.m. to 3 p.m. Travel time ranges from two to four hours, depending on the boat. Tickets are 350,000 VND/person.
Places to visit
Phu Quy Island has more than 11 attractions. For directions, ask the owner of your motel or homestay. Here are some of the most popular:
Lang Duong Fish Pond
There are some destinations that are only known to the locals. For example, the abandoned aquarium next to the Tomb of Sai Nai Master. This aquarium is known as "Lang Duong fish pond" or "Ganh Hang dam." Previously, it was used to raise squid. When this form of fishing became more popular, the aquarium was abandoned and became flooded with seawater. Now it looks wild and has a unique beauty.
Phu Quy Wind Power Plant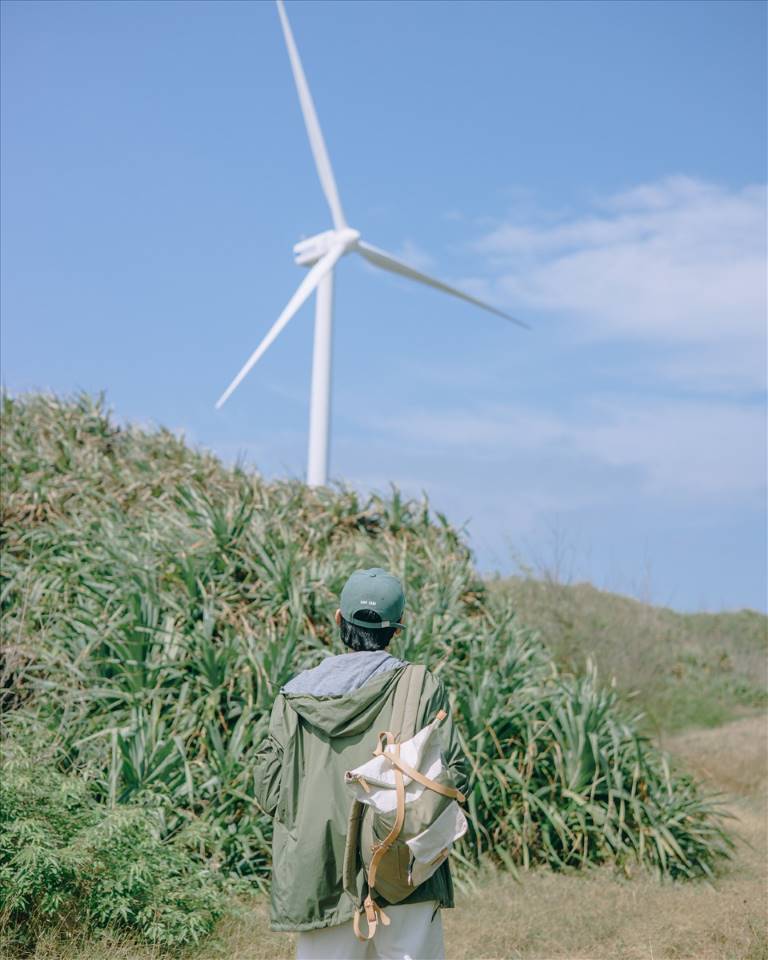 Not as famous as the wind farms in Bac Lieu or Dak Lak, the Western beauty of this field attracts tourists who enjoy taking photos there. The correct name of this wind farm is "Phong điện Phú Quý." It was built in 2010 and was the first wind power project in Vietnam based on the mixed operation model. Combining wind and diesel energy, the supply capacity was increased three times, helping supply electricity to local people day and night.
Due to its impressive design, Phong điện Phú Quý is a highlight to visit.
Linh Son Pagoda
Located on Cao Cat mountain, Linh Son pagoda is one hundred years old and is about 200 meters above sea level. This temple plays an important role in the spiritual lives of island people. Fishermen worship here before going out to sea. There is no abbot, but Buddhists perform rituals for each other and they are friendly and open to having visitors.
After entering the temple and offering incense, continue walking to the top of Cao Cat mountain where you will see the statue of Bodhisattva Avalokitesvara on a giant stone pedestal. Nearby, there is also a large protruding rock with a cactus beach below. This is the check-in place for tourists. The pagoda is located at the highest point on Cao Cat mountain and visitors can look out over the island to the cool blue sea.
Tomb of Master Sai Nai
According to folklore, Master Sai Nai was a Chinese merchant and knowledgeable about medicines. During a business trip to Vietnam, his boat was swept by a storm to Phu Quy Island. Fascinated by its wild and poetic beauty, he decided to stay there for the rest of his life. His medicinal knowledge helped the local people and now he is worshipped as the island's guardian deity.
After his death in 1665, he was placed in this tomb. Every year, a ceremony in his name is held on the 4th day of the 4th lunar month. There are many such traditional rituals reflecting the cultural identity of the island, such as singing Boi and praying for peace.
Temple of Princess Ban Tranh
Another famous folk belief is of Princess Ban Tranh. Her temple was built by the Cham people (Champa) at the end of the 15th century.
Legend has it that the princess Chiem Thanh refused to be forced to marry, so her father dropped her into a boat and went away to the country. The boat drifted to Phu Quy and she decided to stay and help the people fight foreign invaders. Because of her great contribution to the island, after her death Princess Champa was honored as Ba Chua Xu (also known as Ba Chua Dao). A shrine was established and there is an annual ceremony to mark the anniversary of her death.
At the temple, in addition to paying their respect, visitors can admire the architectural features that reflect the Vietnamese and Cham cultures, They can also listen to stories related to Ba Chua Xu.
Hon Tranh
Hon Tranh is southeast of Phu Quy island. It is a military base, protecting the sovereignty of the sea and islands of Binh Thuan.
The name Hon Tranh comes from a plant that grows on the island – cogon grass. In the past, islanders often came here to cut the grass for the roofs of their houses. Calm all year round, you can see through the clear blue water to the coral reefs below. It is a destination for swimming, boating, snorkeling, and watching the island from the radar station. You can also go out with fishermen and enjoy fresh seafood on their boats.
Ask the owner of your guesthouse or homestay about a tour to visit Hon Tranh. Cost is around 250,000 VND/person.
Good to know…
Ferries to and from the island run on a fixed schedule. Book in advance as tickets sell out quickly. You can track the schedules on the information page of Binh Thuan Department of Transport in the announcement section.
Link: https://sgtvt.binhthuan.gov.vn/
On average, there are only 1-2 departures per day.
There is no taxi on the island, but you can rent a motorbike at the hotel to get around.
Motorbike rentals range from 100,000 – 150,000 VND/vehicle/day.
One tank of gas will allow you to roam around the island all day.
If you want to camp overnight, ask the owner of your guesthouse or homestay to apply for a permit in advance.