Over the previous few decades, very few North American Asian baseball players have been able to make it to the major leagues. Baseball is among the harder sports to master. A recent survey by Routine, a baseball streetwear brand, discovered that 2.9 per cent of Major League Baseball (MLB) players are Asian. Financial, cultural, and societal hurdles that prevent Asian youth from having opportunities to pursue baseball.
Asian baseball players are underrepresented both on the field and in sports management positions. The Institute for Diversity, Ethics, and Sport's founder and director, Richard Lapchick found that 41 per cent of players are Black, Indigenous, and People of Color (BIPOC), but only 7 of 100 leadership positions are filled by people of color. Asians who belong to the BIPOC group experience racial discrimination and inequality in the baseball industry. Although some parents believe they can impact society by encouraging change in professional sports. Having a solid family support system motivates Asian youth to excel and outperform the competition.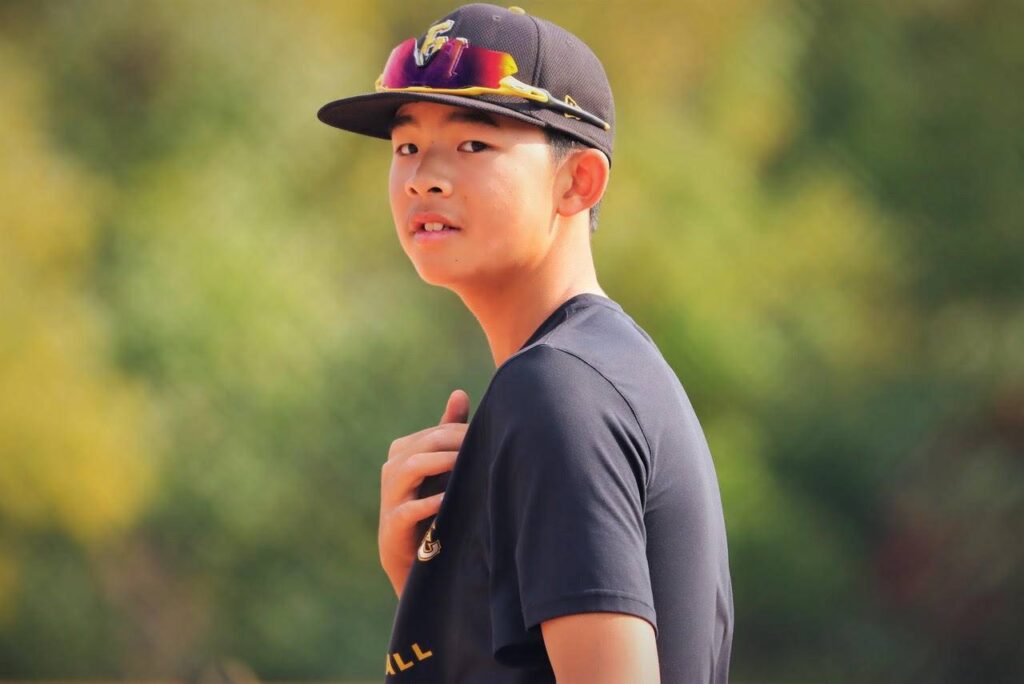 Young rising Vietnamese Canadian Baseball Player
Hayden Le, 15, resides in Oakville, Ont., became a fan of baseball after seeing Jose Bautista play for the Toronto Blue Jays. He participated in his first baseball game in 2015 at the age of eight. Hayden's parents decide to enroll their children in baseball to foster a sense of collaboration and provide physical activity. Currently, Hayden is in the Canadian Premier Baseball League (CPBL) for the Fieldhouse Pirates as first baseman and pitcher. The organization includes the top amateur players and programs supported by the province of Ontario. It produces high-calibre players, with a focus on development, and enhancing the profile of the game in Canada.
On July 27, Hayden attended The Prep Baseball Report (PBR) Future Games 2022, a high profile summer scouting event to recruit baseball prospects in North America. Hayden is also invited to a baseball academic camp in October where top US University coaches from Division 1 and Ivy Leagues in training to be a professional baseball player.
Hayden hopes to receive a baseball scholarship to play professionally in the United States. His parents think his performance as a baseball player is directly related to his academic and athletic achievements. Baseball, according to Hayden,"teaches me that hard effort and discipline can pay off and failure is not always bad."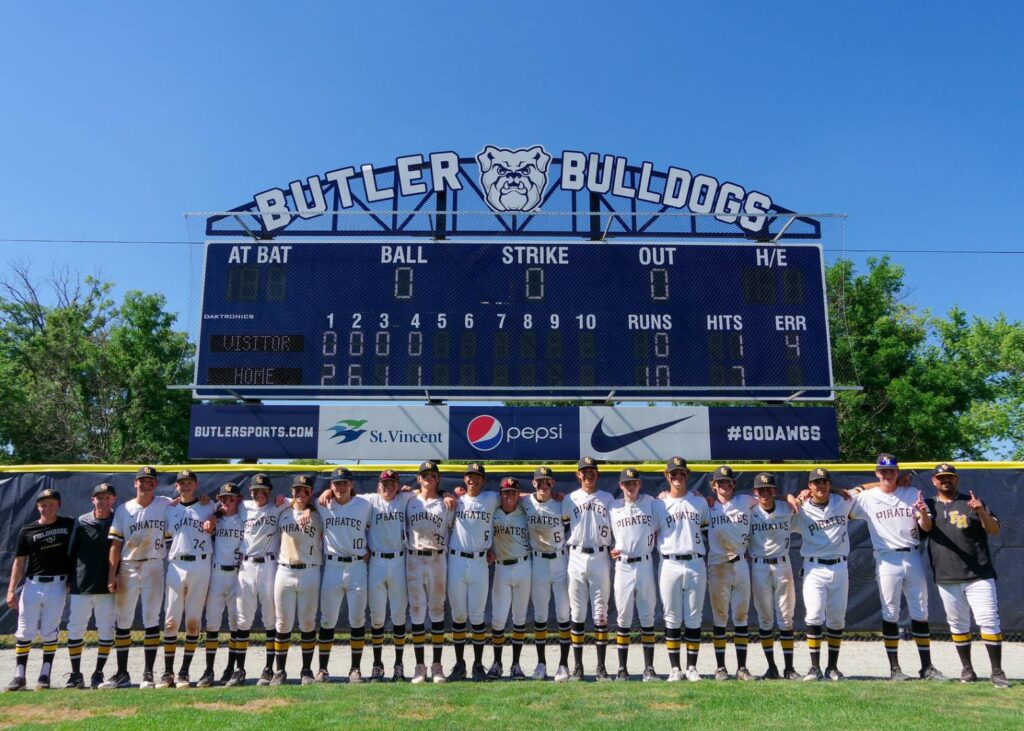 Family comes first
Denise Quek, mother of sons Ethan and Owen Ralph, says it was difficult to overcome Asian cultural prejudices and sport industry hierarchies.
"Growing up, my Hong Kong immigrant parents placed a higher importance on regular physical activity over athletics. They never encourage my siblings or me to play team sports."
That did not deter her from participating in a variety of sports including baseball, volleyball, running cross country, and soccer. Once she started a family, Denise enrolled both of her sons in baseball to be physically active to dispel stereotypes and expectations. She had seen that Asian players in North America are rarely recruited for MLB. Due to a lack of encouragement both from parents and the baseball community, Asian children often do not pursue the sport.
Things are starting to change, however. Currently, Owen plays on the same team with Hayden in the position of middle infield and right-hand pitcher. Owen aspires to get drafted into MLB and would like to make baseball his livelihood.
"If he can't play baseball for a living, he still wants to do something in the sports field," said Denise.
Like Denise, Ken, and Karen Le, support their kids in pursuing their goals. They would drive Hayden and his brother Blake to baseball games, practice drills, and lift weights on days off. This occurred five days a week on a rotating schedule.
"Team work is not only on the field. Ken and I work together to balance it out and ensure our children's success," explained Karen.
When it comes to higher education and sports scholarships, academic achievement is important in order to get accepted early to the university and play on a good team, scouts start looking at grade point averages (GPA) in Grade 9.
"If they don't have a good enough grade average, they won't even get a scholarship," noted Ken.
There are some baseball scholarships awarded to visible minority groups, but not many. "I'm hoping that baseball scholarships were announced. They don't cover the whole tuition. Hopefully there'll be some kind of academic scholarship as well. If the athletes are also academically inclined, they could get two scholarships that will help them go into university." explained Denise.
Getting children involved in sports while they are young helps build life skills. Ken said that playing baseball has given Hayden more confidence to participate in games and learn from his mistakes. Karen believes that Hayden can excel as a baseball player and develop both personally and professionally via the game.
In every leader, there is a mentor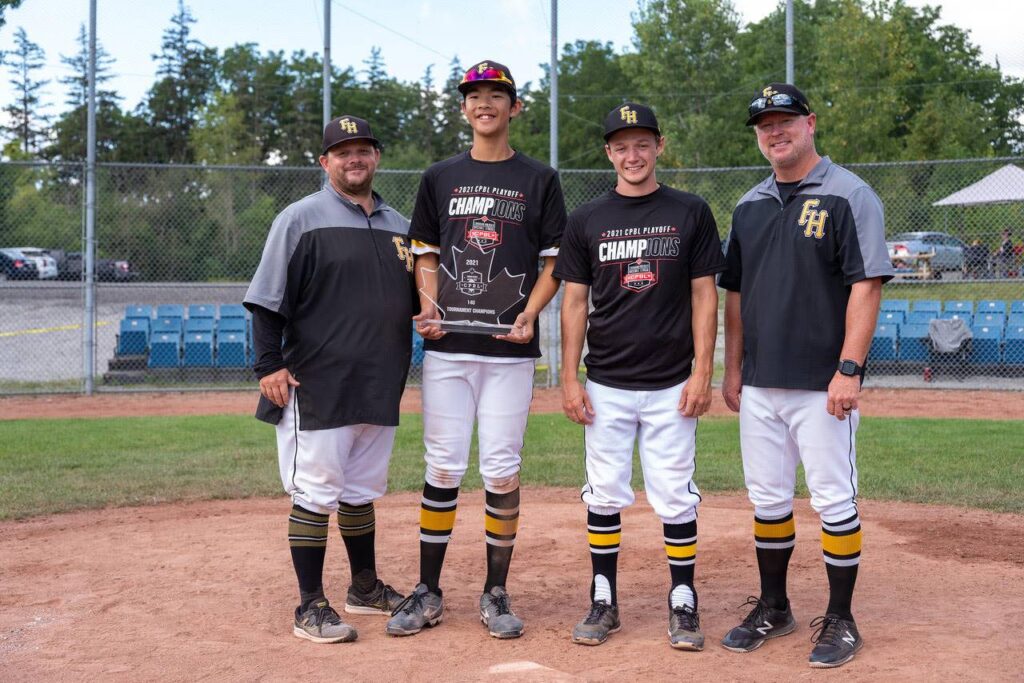 Scott was born in Stewart, B.C and raised in Prince George, B.C. He began playing baseball at the age of five. He was an outfielder and an infielder for Team British Columbia (BC) by 16, then went to Clarke College in Taft, Calif. Scott was named to the Northern Illinois-Iowa Conference (NIIC) all conference team in his both junior and senior years (2000-2001). In his senior year, Scott was chosen as a member of the All-Region Baseball Team. After completing his college years, Scott spent two years as assistant baseball coach for first base and infielders. Currently, he is full time at Fieldhouse.
Coaching is an opportunity for him to learn more about an athlete's parents long-term baseball aspirations.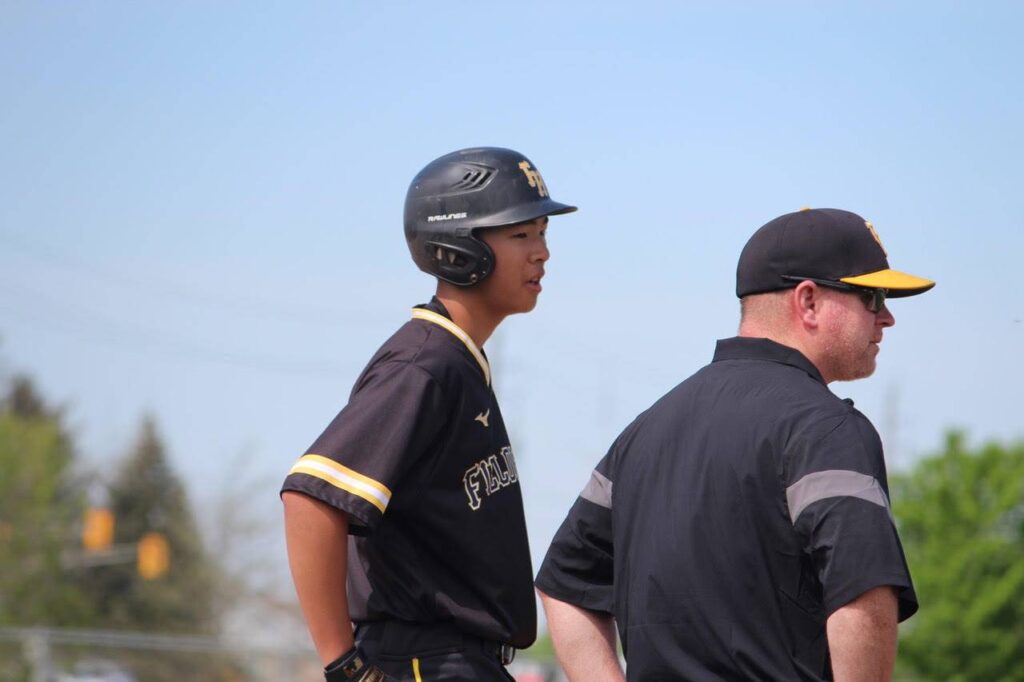 "We meet with families and find long-term goals by helping them find the right placement whether it be at the university level or pro level. We look at the quality of the player versus ethnic background."stated Scott.
Under Scott's training, athletes train and advance at Fieldhouse, in Burlington, ON.
He advises players improve their work ethic and demeanor off the field. Scott believes having a good work ethic and attitude will translate the athlete's potential being drafted into professional baseball.
'As coaches we have high expectations for our players to succeed. By showing up to work hard, we can guide them to become the baseball players they want to be."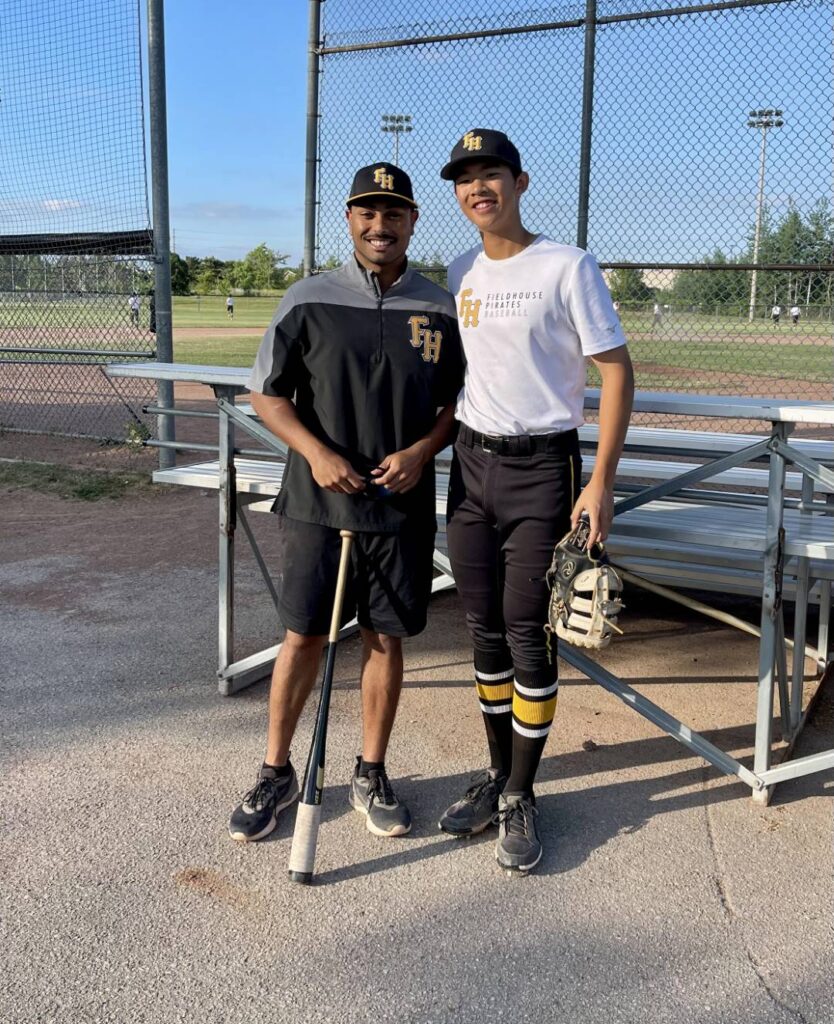 Hayden Le with TJ Singh. Photo courtesy Ken Le.
TJ Singh, one of Hayden's coaches is of South Asian descent was a Division 1 baseball player in the United States.
Singh was raised by his grandparents in Vancouver. He discovered baseball by playing outside with the neighborhood kids. At the age of 12, Singh joined the all-star team at Oakville League All Star and eventually made it to the Ontario Blue Jays. After graduating from high school, Singh played for a year in Tennessee, at Freed Hardman University and at Central Methodist University in Missouri. In Summer 2021, Singh became a coach at Fieldhouse to encourage young people to play baseball.
He experienced hardships as a person of color in the sport. Singh, who is half Indian and half North American, felt like an outsider at the time.
"When I was in Kansas City, Missouri, one of my teammates approached me and called me Mexican. It was a racial slur," Singh recalls.
He had no assistance or services for visible minorities.
"In addition, I had no guidance in selecting the right courses for high school because my grandparents do not speak English," said Singh.
However, racism is not as prevalent as it was in the past.
"Now when I go back to high school to coach baseball, minorities are everywhere. There's Muslim, Black, and Asian people. It's diverse people in one area." Given how the North American socio-cultural landscape is changing, baseball can provide a promising career path for Asian Canadians.
Scott and Singh agree baseball should be an inclusive sport for minority populations. In Canada, young individuals can pursue professional baseball through private or public organizations. Fieldhouse receives direct funding from their annual golf fundraiser that helps to run facility and program operations.The Jays Care Foundation is another option that provides more accessible grants through programs for youth across 10 provinces and 2 territories in Canada to play baseball. Examples: Rookie League, Field of Dreams, Jays Care Community ClubHouse, Girls at Bat, James Bay Girls at Bat, and Challenger Baseball (Charity Intelligence,2022).
As more seasoned players of diverse backgrounds on the field, younger athletes will have role models and a better chance of reaching their goals and participating in professional sports.
In baseball, similar to hockey, there still aren't many role models for visible minorities. Danny Graves #32 (aka Baby-faced Assassin) former pitcher (1996-2006) is the only Vietnamese descent player in baseball in Major League Baseball (MLB) history. Graves was well known for leading the Cincinnati Reds as saves leader from 1999-2004. A saves leader is a pitcher who entered the game with a lead and finished off a win (MLB,2002).
"It's a great feeling like you've accomplished something and have an impact on children," said Graves (Youtube, Graves).
To be more inclusive, sport organizations need to work with visible minorities and hiring practices need to encourage diversity participation. As for the players, upcoming athletes like Hayden and Owen are setting an example by encouraging Asian Canadians to participate in sports.
Sources
Bulletproof Baseball Academy. (2022) Bulletproof welcomes Perry Scott to the 18U Coaching Staff. Retrieved from.
https://www.bpsportspark.com/teams/?u=BULLETTPROOFBASEBALL&s=baseball&p=newsstory&newsID=33909
Heroux, Devin and Strashin, Jamie. (2020) Sidelined: How diversity in Canada's sports leadership falls short. CBC Sports. Retrieved from. https://www.cbc.ca/sports/diversity-canadian-sports-leadership-falls-short-1.5648402
Major League Baseball (MLB). (2022) Danny Graves #32. Retrieved From.
https://www.mlb.com/player/danny-graves-115056
The Mayor's office with Sean Casey. (2021) Ep18: Danny Graves!. Retrieved from.
https://www.youtube.com/watch?v=krwO82iZGkM
Routine. (2020) Player Demographics Major League Baseball (MLB). Retrieved from.
https://www.routine.com/blog/post/mlb-player-demographics/