Winnipeg is known for its cold winters and warm hospitality. But recently I learned the Manitoba capital had some new bragging rights ¬– from a botanical paradise, to a lively food market, to museums and galleries.
It was time to go back to the city I lived in so many years ago.
Despite the chilly temperatures, my first stop was positively steamy. I was exploring a verdant indoor sanctuary called The Leaf in Assiniboine Park. Winnipeg's oldest public green space, the park was established in 1904, but The Leaf is a brand new addition that opened in December. Entering the striking, glass, tent-like structure I was ushered into two biomes, tropical and Mediterranean, where the air was warm and moist. A three-story indoor waterfall burbled and walkways of pale Manitoba limestone led me to a variety of horticultural treats, from cacao plants, to endangered Wollemi pine trees, to fragrant herb gardens.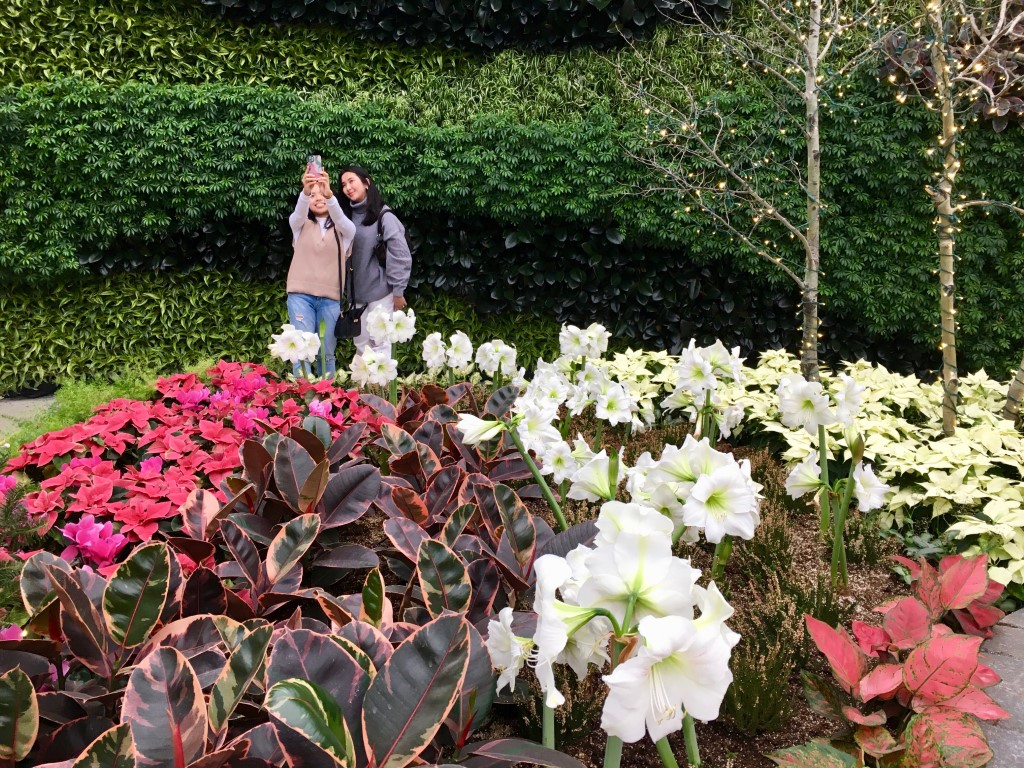 "Our purpose is to share plant stories about sustainability, and showcase rare flora," explained educational team member Bonnie Tullock.
Guiding me through the building, she pointed to the rooftop. "The sustainable roofing system lets in UV rays. You need to wear sunscreen in here!"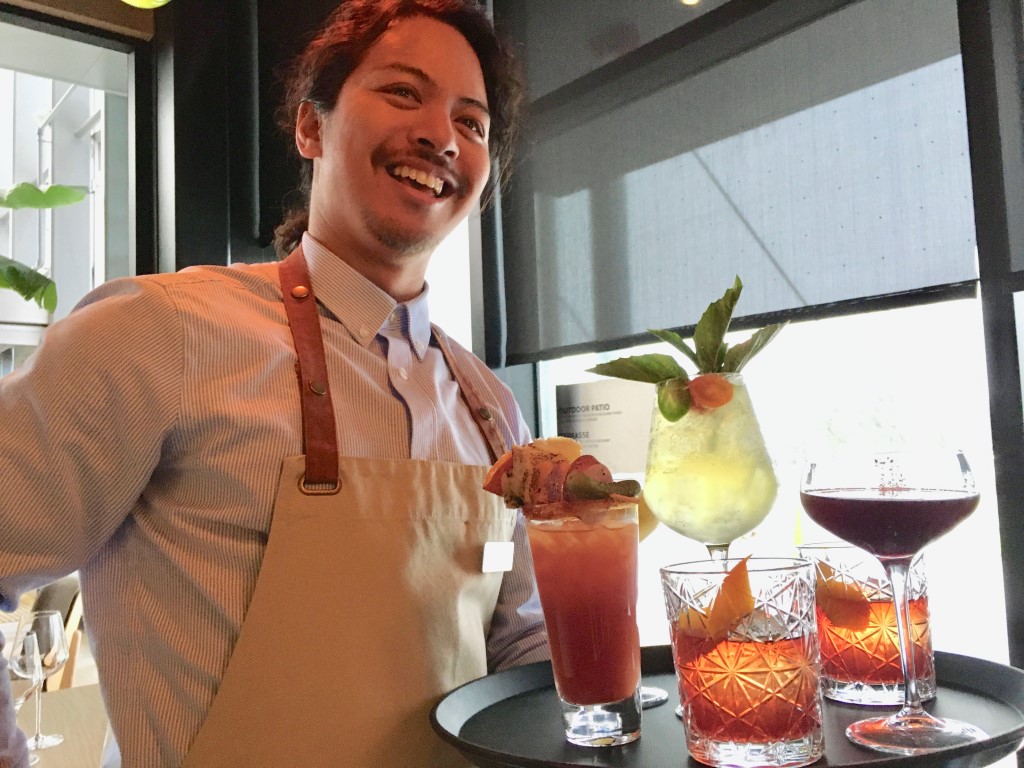 We stopped for lunch at The Leaf's Gather Craft Kitchen & Bar where chef Mike de Groot's menu includes as many ingredients produced on site as possible. While there are lots of vegetarian choices, de Groot also offers carnivore options and sources locally whenever he can.
"My goal is to present the connection between people, plants, food, and community," he explained.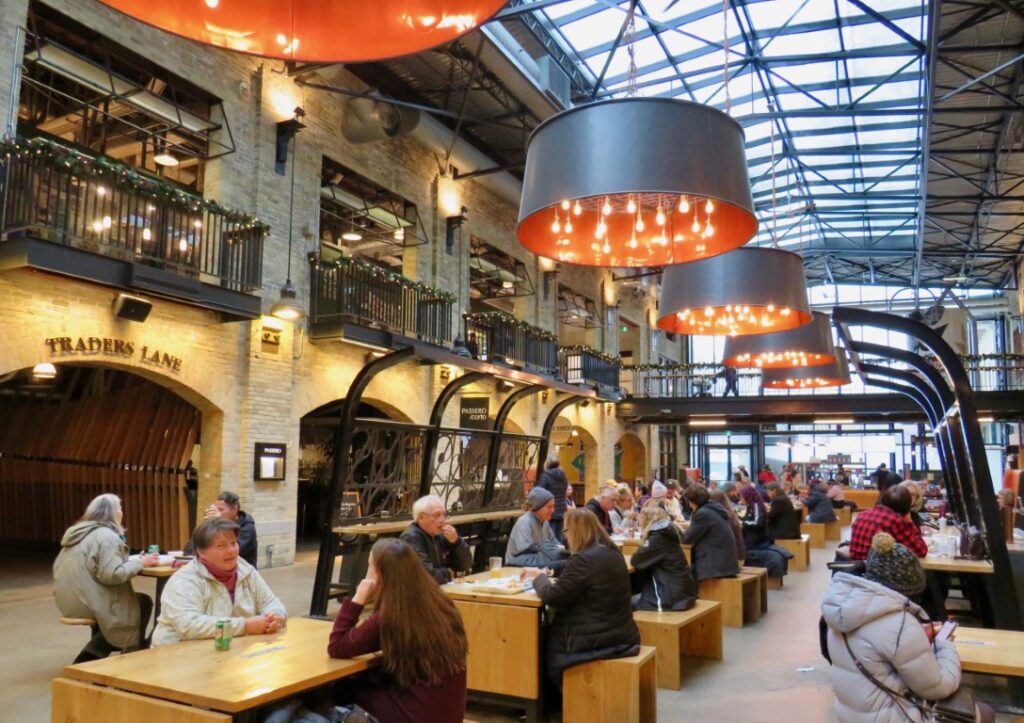 As tempting as it was to stay within The Leaf's exotic climate, I wanted to see what was happening at another hot spot. The Forks has long been a popular gathering place, first for Indigenous peoples thousands of years ago, and more recently for shoppers, skaters and anyone who wants to enjoy a delicious bite or beverage.
Located at the confluence of the Assiniboine and Red Rivers, the sprawling property had winding outdoor paths, an amphitheatre and a converted warehouse space filled with boutiques and eating choices. The shops featured an abundance of Manitoba goods, including footwear brand Manitobah with beautiful beaded mukluks that could stand up to the cold. I also popped my head into the newly opened Treaty Relations Commission of Manitoba Learning Centre. Exhibits explained the treaties agreed upon by many of the province's Indigenous peoples and the federal government. They also described how colonial rule disregarded many of the agreements.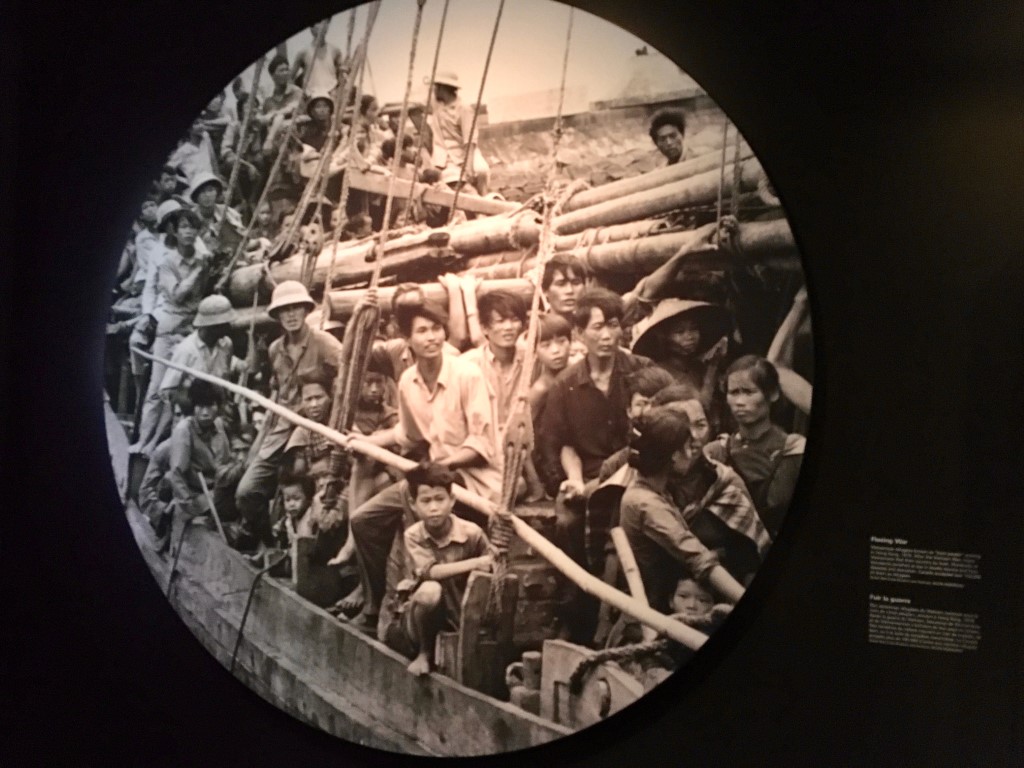 Nearby was the architecturally stunning Canadian Museum of Human Rights. Upon entering, I encountered the Welcome Wall with greetings in 40 languages. Looking closely, I saw the casting of a moccasin footprint to one side of the wall.
"It was found when they were digging for the museum's elevator shaft. It's 700 years old," explained Rorie McLeod, the museum's media relations specialist.
After I remarked on the museum's unusual design, McLeod revealed its purpose.
"There is not a lot of natural light on the lower floors of the building. As you move upwards on the cross ramps, more light enters. It's a journey from dark to light. It symbolizes that we are getting better at recognizing human rights."
The displays covered human rights issues around the globe, such as the challenges faced by African-Americans who rode the Underground Railroad to escape slavery and Chinese labourers who came to Canada to work on the railroad. There was also a space dedicated to the Vietnamese 'Boat People' who came to Canada after the fall of Saigon.
Close by was another new attraction I had longed to see since it opened in 2021. Qaumajuq is dedicated to Inuit art and is part of the Winnipeg Art Gallery (WAG). Pronounced "Kow-ma-yourk," the gallery's name means "It is bright. It is lit" in Inukititut. The two-story glass vault contained almost 5,000 pieces of art – all visible and organized by community.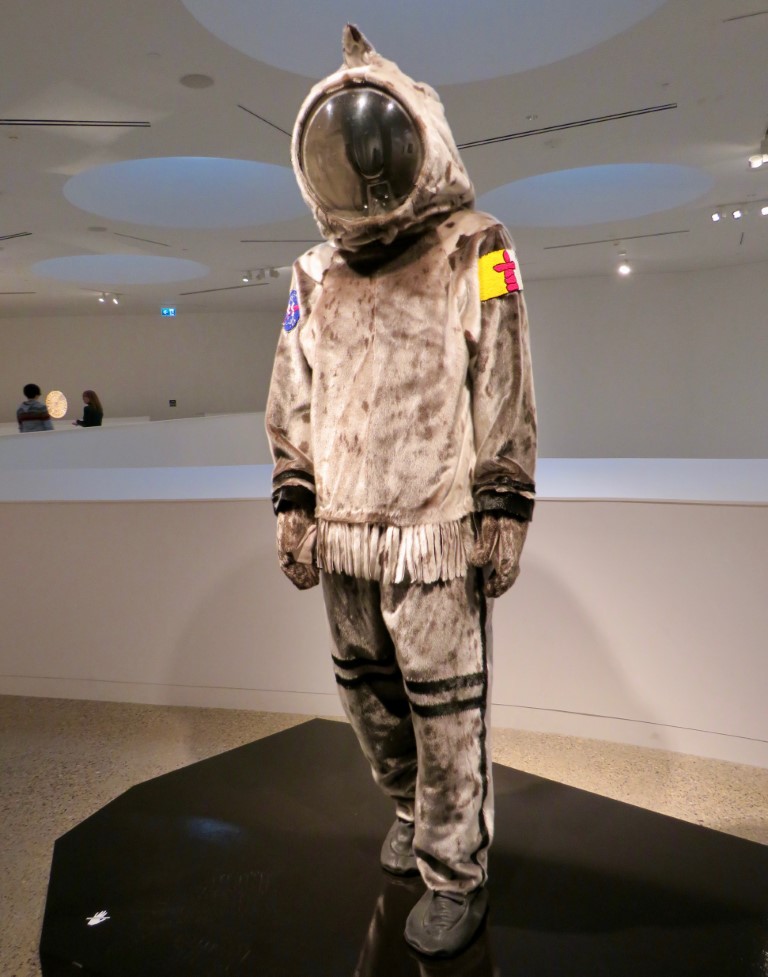 "Family members come to search for their relatives' artwork. The goal in future is to have them come in and speak about their ancestors and the art," explained the WAG's Colleen Leduc, an art educator who teaches virtual art programs to children in Nunavut.
From there I took a little drive to the edge of Birdshill Provincial Park outside the city. My destination was Pineridge Hollow, a restaurant and shopping experience. Owned by Janice Regehr, the property has been evolving since it opened in 1992. Originally a teahouse, the restaurant is now known for its daily scones, cinnamon buns, and lemon ricotta pancakes. I enjoyed poking around the stretch of shops behind the restaurant that included a bakery, farmer's kitchen grocery store, women's fashions, and antiques. Going beyond the shops I followed a trail into forested area and was able to warm myself by a wood stove in a geodesic dome.
Back in town, I popped into the last attraction on my list, the Royal Aviation Museum. Located next to the airport it was an huge, airy space that opened last May. It was filled with 20 aircraft and 17 exhibits covered the history of western Canadian aviation. Joel Nelson, VP of operations and facilities, told me the museum will celebrate its 50th anniversary next year.
"The idea for the museum came from five bush pilots, sitting around having a beer. It used to be in a small space in the Exchange District. This new building is a real step up."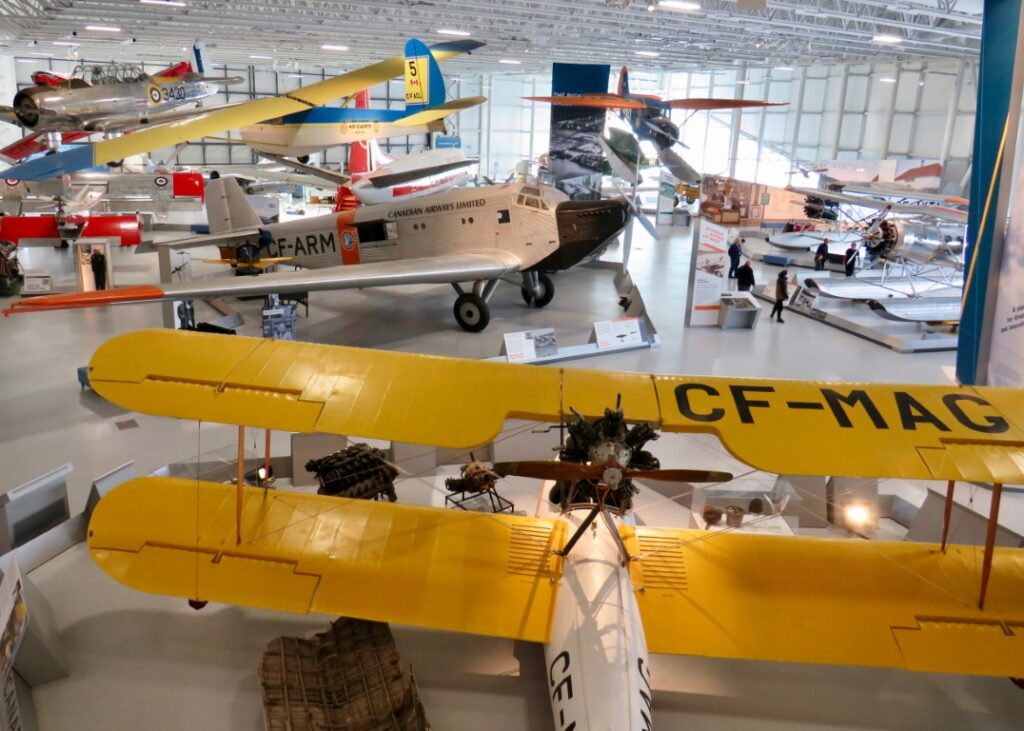 Three rare aircraft were of special interest – a Vickers Vedette replica, a Fairchild Super 71 and the Froebe Helicopter. The Vickers Vedette was the first aircraft designed and built in Canada to meet Canadian weather conditions. It was used to do aerial mapping and firefighting in the 1920s.
"They found a wreck in the bush, the tail of the fuselage is the only original piece they still have. It took museum volunteers 22 years to put this one together."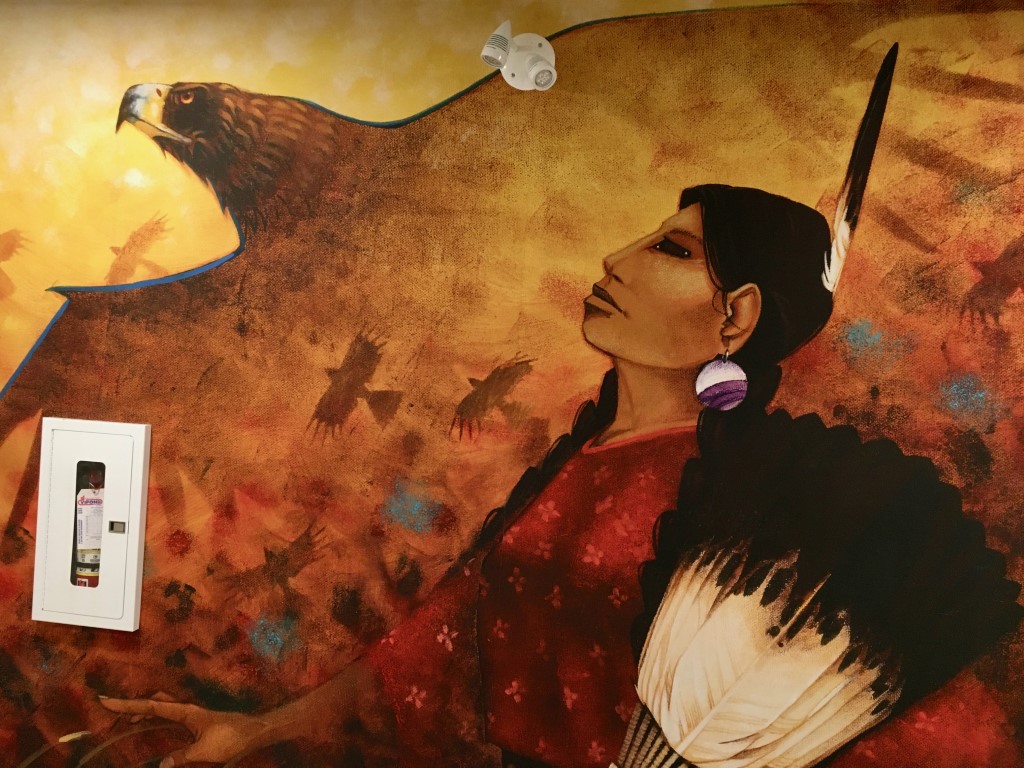 The Fairchild Super 71 was the first purpose built bush plane in Canada while the Froebe Helicopter, made from scrap, was the first helicopter to fly in this country. Unfortunately, it only got three feet off the ground.
Although I had been staying downtown at the historic Fort Garry Hotel for most of my visit (formerly the Grand Trunk Pacific Railway Hotel), on my last night I went to the Wyndam Garden Hotel since it was convenient to the airport. Owned by Long Plain First Nation, it featured Indigenous art in every room and signage was in three languages, English, Dakota and Ojibway.
After so many years away, it was a thrill for me to see the recently-opened attractions and thriving entrepreneurs. The city takes great pride in its heritage, but it also knows how to embrace the new.
Fun Bites
Hargrove Market:
owntown, indoor food court with local offerings including wood oven pizza, ramen, juicy burgers and tacos. hargravestmarket.com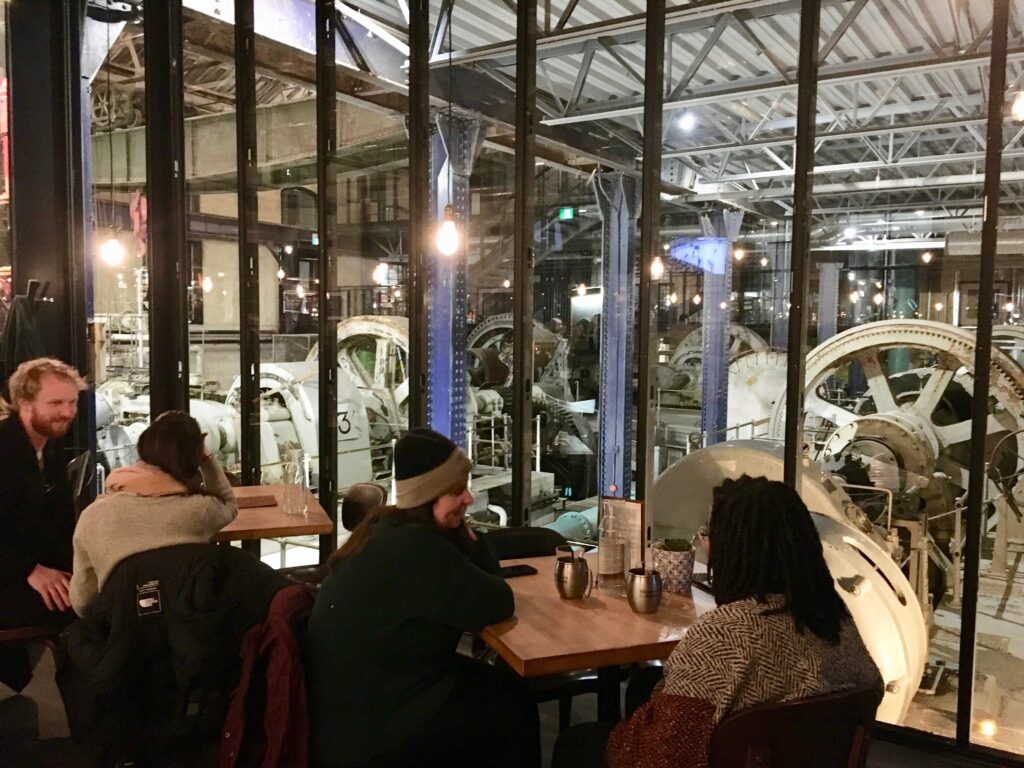 James Avenue Pumphouse:
Built in 1906, this decommissioned pump house is full of steam punk ambience and is located in the Exchange District.
Try the XL perogie. Jamesavenuepumphouse.com
Modern Electric:
Great downtown spot for breakfast or lunch. Daily special lattes and delicious avocado toast. melunch.ca
Fort Garry Hotel Oval Room Brasserie:
Glamour from the 1920s with menu items such as steaks, seafood and crafted cocktails. fortgarryhotel.com