Every person knows that good feeling inside when entering a fully stocked bakery and inhaling the heavenly scents. Who doesn't love freshly baked dough, creamy desserts and a wide array of delectable delights?
Cheat day or not, head on over to devour cultural and classic baked goods, found locally in Mississauga.
Caldense Bakery

Look out for this Portuguese franchise, there are about eight locations spread out in numerous cities of Ontario such as Mississauga, Toronto and Vaughan. There is an endless display case of European pastries, cake slices and breads.
For special occasions, they offer a wide range of cakes in different fruity or chocolatey flavours, textures, fillings and toppings, yet each are a classic variety. For example, there are strawberry shortcakes, blackforest cakes, red velvet cakes and cheesecakes. The most treasured and uncompromised dessert is Portuguese custard tarts, traditionally made using an ancient recipe, according to their website. The other dessert options are puddings, pies and tarts. For freshly baked breads, the choices come in various shapes, sizes and types, from sourdough loaves, to French baguettes to buns.
Prices are available in stores or by directly contacting Caldense Bakery.
Read this Google review to get a feel of the place:
★★★★☆ 4 / 5 stars
"This has got to be the biggest staple Portuguese bakery in Toronto. It's a very modest place, where older generation people usually hang out and feel at home, can speak their own language and are able to get authentic baked delicacies accompanied by a well made coffee. If you don't know what to order ask for the best sellers, the staff is really friendly!" – Giovanna Chavez
Website: https://caldensebakery.ca/
Find a chain nearest to you: Caldense Bakery locations
Kin-Kin Bakery & Bubble Tea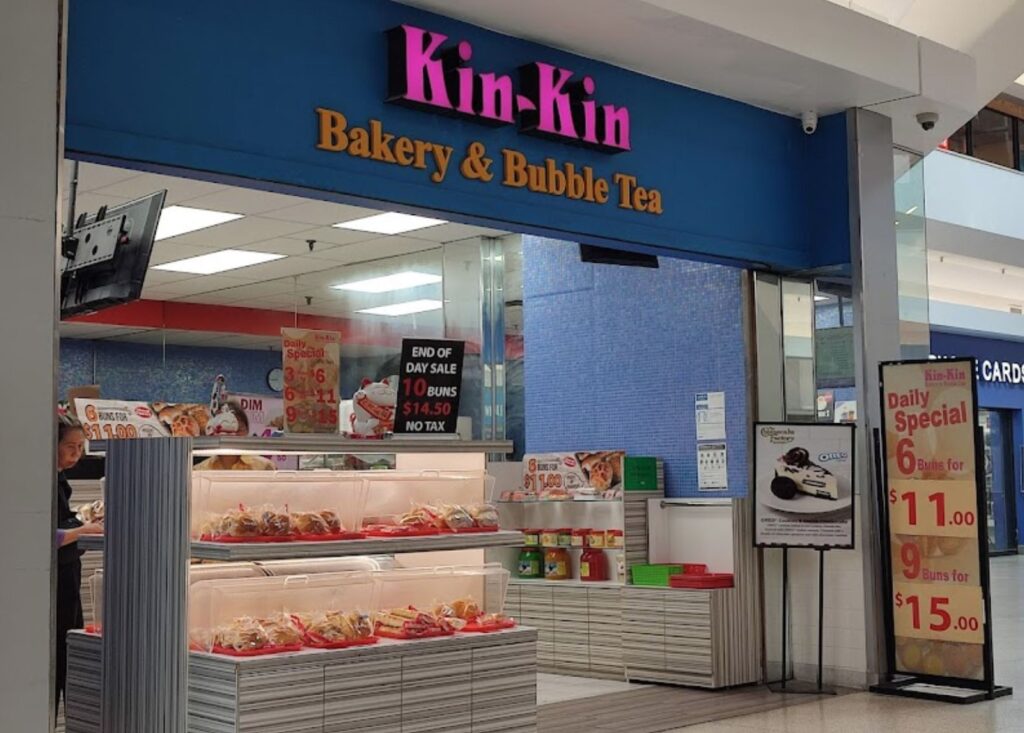 This Chinese bakery, founded in 2001, has since became a multi-million-dollar franchise with more than 10 locations across Ontario. The affordable prices and good quality food and drink with no preservatives has attracted a loyal clientele and contributes to this bakery's success.
If you drop by for breakfast you'll enjoy the baked goods fresh from the oven.
In Chinese culture mooncakes are a traditionally cherished pastry especially during festivals. They are a kind of chunky, soft biscuit with a flaky pastry outer layer, a thicker dough inside and a sweet/savoury filling in the centre, such as with beans, meats, nuts, lotus paste and custards.
Many other bakery items are brunch-friendly and go with morning coffee or tea. You can try the Hong Kong style milk tea, which is simply black tea with either condensed, evaporated or skimmed milk. For refreshing drinks you can go for a smoothie or bubble tea.
Read this Google review to get a feel of the place:
★★★★★ 5/5 stars
"They make my favourite bubble tea. I compare every other place to kin kin and have yet to get better than these guys. Their buns are great too! Good selection of sweet and savoury. And a good selection of pre-packaged baked goods. Everything looks appealing. And their loyalty card is a nice touch." – Sajida P
Website: http://kinkinbakery.ca/
Scroll to the bottom of their homepage to find locations near you.
La Novita Bakery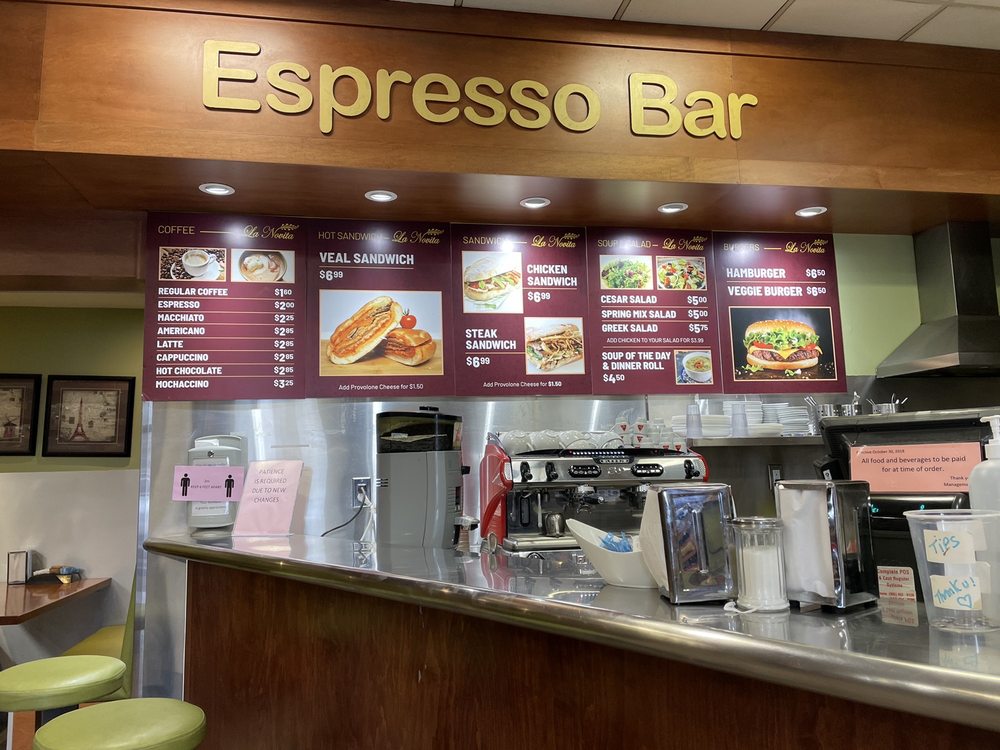 Residents in this French bakery's neighbourhood have been loyal customers since it opened in 1975.
The modest exterior hides a scrumptious circuit inside. In the front there is a display case of cakes (some eggless,) pastries and more desserts. To give a few examples, there are mini cakes, mimo quindim (a coconut egg tart), cannoli's, fruit Danishes, croissants with sweet or savoury fillings, bola de berlim (German) donuts with Nutella or lemon filling and plentiful pastries to select from. By the wall are trays of donuts, more pastries and croissants. As you make your way to the bread section, the meat section, and the frozen section, you notice the Espresso Bar. It's an all-in-one cafe, which means you can satisfy several cravings at the same place.
Custom cake orders can be placed online
Read a Google review to get a feel of the place:
★★★★★ 5/5 stars
"Lovely little bakery, huge selection of breads and a nice selection of desserts. They also have some deli meats at a reasonable price, they also make sandwiches and have a little coffee seating area. The staff was friendly and helpful. They also make custom cakes." -Natalie E
Website: http://lanovitabakery.ca/
Address: 25 John St, Mississauga, ON L5A 1Y5
Dessert Trends Bakery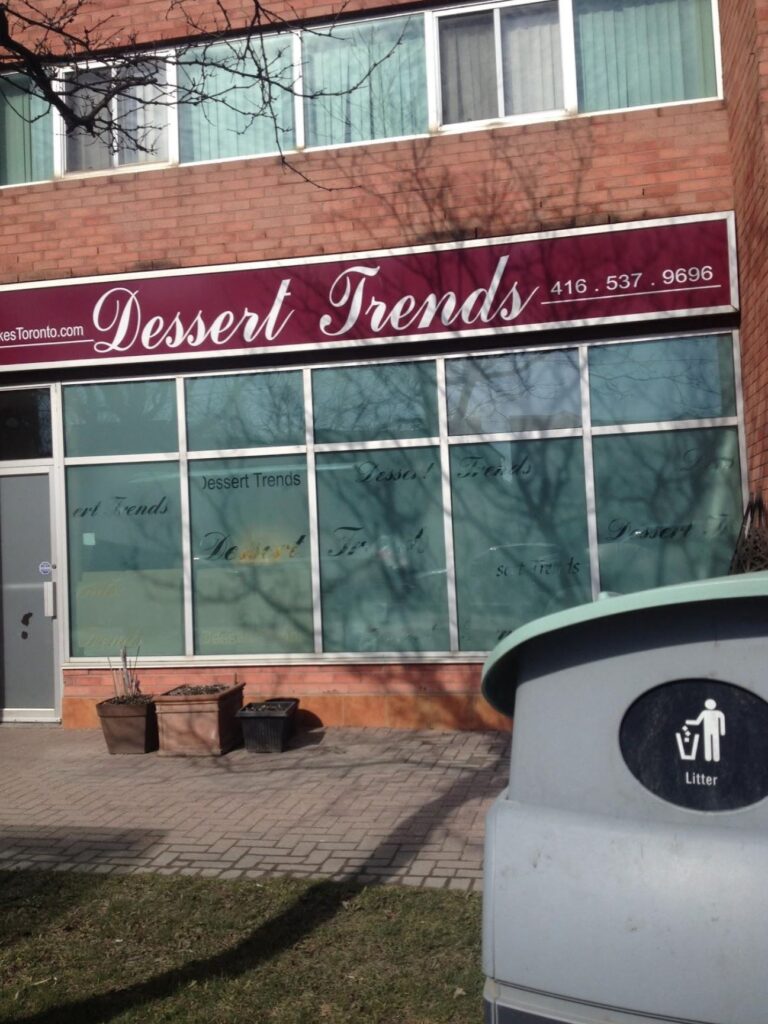 Dessert Trends is a Vietnamese bakery based in Toronto. It first opened in 1999 by a skilled and expert chef named Donald Duong. He introduced many innovative kinds of desserts and creatively designed cakes, tarts, cookies and pastries. Under pastries, you can find a mixed variety that are each wrapped up in surprises for example, the passion fruit parfait uniquely appears to look like a boiled egg, as for the chocolate mousses they each have a hard shelled layer that makes you wonder what's on the inside, is it tiramisu? Blueberry? Hazelnut? Then you have the "berry box" which is exactly what it sounds: a beautifully presented chocolate box, filled with berries following a glaze on top.
Similarly the chocolate symphony has rectangular-like shape, where the top four corners meet in the middle, creating a unique gift bag inspired mould, while the inside is kept a secret ready to unfold. For wedding cakes, Dessert Trends applies advanced decorating techniques to a three to four stacked cake. Some of the regular signature cakes, are chocolate delight, tutti fruity cheesecake and raspberry chocolate mousse.
(Their second location that's now closed, called DT Bistro-Patisserie, was a café that served lunch and dinner.)
About Chef Donald Duong
Chef Don Duong kick started his pastry-chef journey at aged 12, while working afterschool at his grandmother's bakery in Vietnam. Later in life, circumstances led him to move to Canada, and this is when he went on to pursue a culinary degree. After much experience and practise, he made his way across Europe to showcase his talent. In 2005, after being chosen by the Ontario Culinary Team to compete in the World Culinary Olympics, he achieved the gold medal for his pastry masterpieces. Throughout his successful career, there's a long list of his many accomplishments. For instance, being featured in newspapers, TV shows, museums and cooking for several important people like Queen Elizabeth herself. It was devastating to hear about his passing in 2019, but he leaves behind an incredible legacy along with one of the finest and much appreciated Vietnamese bakeries.
Read a Google Review to get a feel of the place:
★★★★★ 5/5 stars
"! heard about Dessert Trends bakery through a friend and Chef Don and his team did not disappoint! Our wedding cake not only looked incredible, it tasted absolutely delish. The chiffon cake was so light and moist and came in a variety of amazing flavours like passion fruit and mango raspberry! One of our wedding guests had to touch it to see if it was real! Looking forward to using them again in future!" -Lianne Papagapiou.
Website: http://www.desserttrends.ca/index.html
Address: 325 Weston Rd, York, ON M6N 4Z9
To book an appointment call: 416 537 9696