Most Torontonians have visited Stratford, Ont., or at least know about it as a hub of Shakespearean theatre. But what of the surrounding area known as Perth County? This lush farming region was on my list of "backyard" destinations to explore since it is an easy 100 km drive west of the city and is chock a block with charming agritourism destinations.
My first stop focused on garden-picked produce at Lynn River Farm on the 37th Line. Owned by Mike and Lindsay Higgins, the operation included the Farm Store, filled with organic fruit and vegetables, preserves, frozen meats, baked goods and premade meals. Stocking up on freshly picked carrots and potatoes, I had a chat with Lindsay who let me in on something relatively new that she and Mike were offering to the public – monthly farm dinners. Menus showcase what is produced on the farm's 42 acres, including home-grown vegetables and free range chickens, as well as items from nearby farms. Depending on the weather, she told me you can sit outside or in the heated greenhouse. "We serve six tasting plates," she explained. She and Mike used to be the main cooks but in January they invited chef Michael Taylor from Stratford's Foster's Inn to helm the dinners. A recent mouth-watering menu included butternut squash bisque, smoked chicken gruyere skillet ravioli, braised beef short ribs and a sea buckthorn berry curd cake for dessert.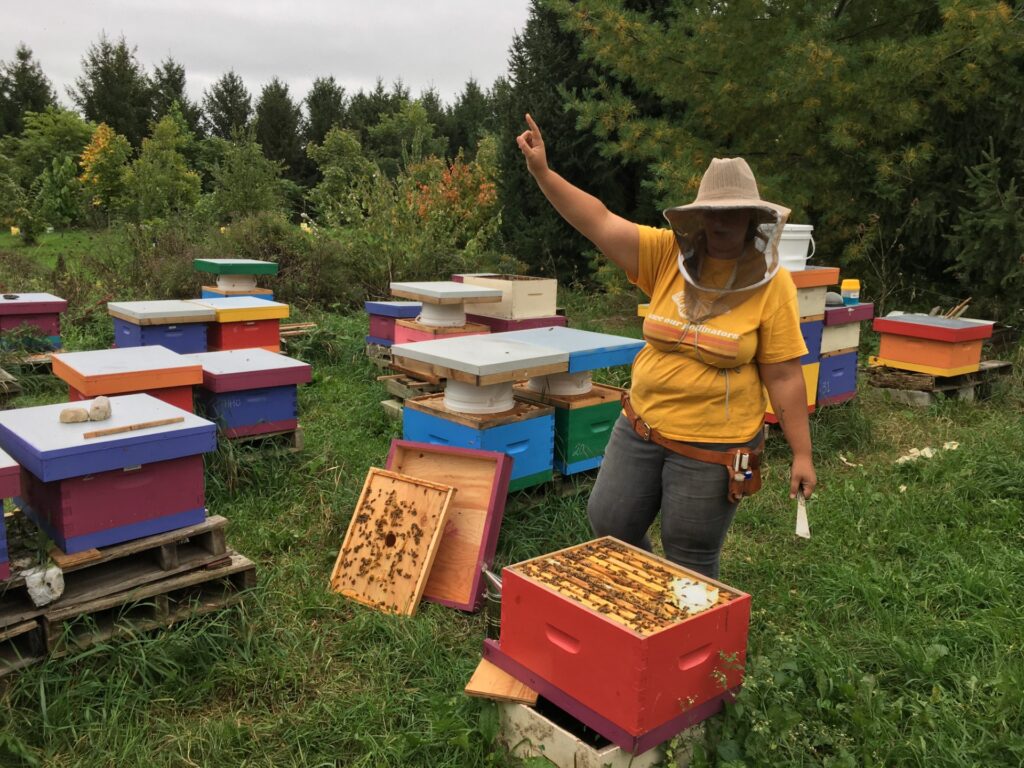 Mike and Lindsay settled on the farm, which was originally Lindsay's grandfather's, 10 years ago. They were looking for a simpler life and a healthy home base to raise their three boys. Offerings to the public began with the Community Shared Agricultural program which helps organic farmers connect and distribute their goods to consumers. Last September they branched out into hospitality, offering farm dinners, an outdoor firepit, and space for special events.
All this wonderful farming can't take place without the local pollinators. I met one of the area's prime beekeepers, Jodi Roth, at her Huckleberry Hives operation near Gads Hill, Ont. After listening to her presentation about the hierarchy of the hive and how honey is created, I donned a white protection suit. I was ready to meet the bees.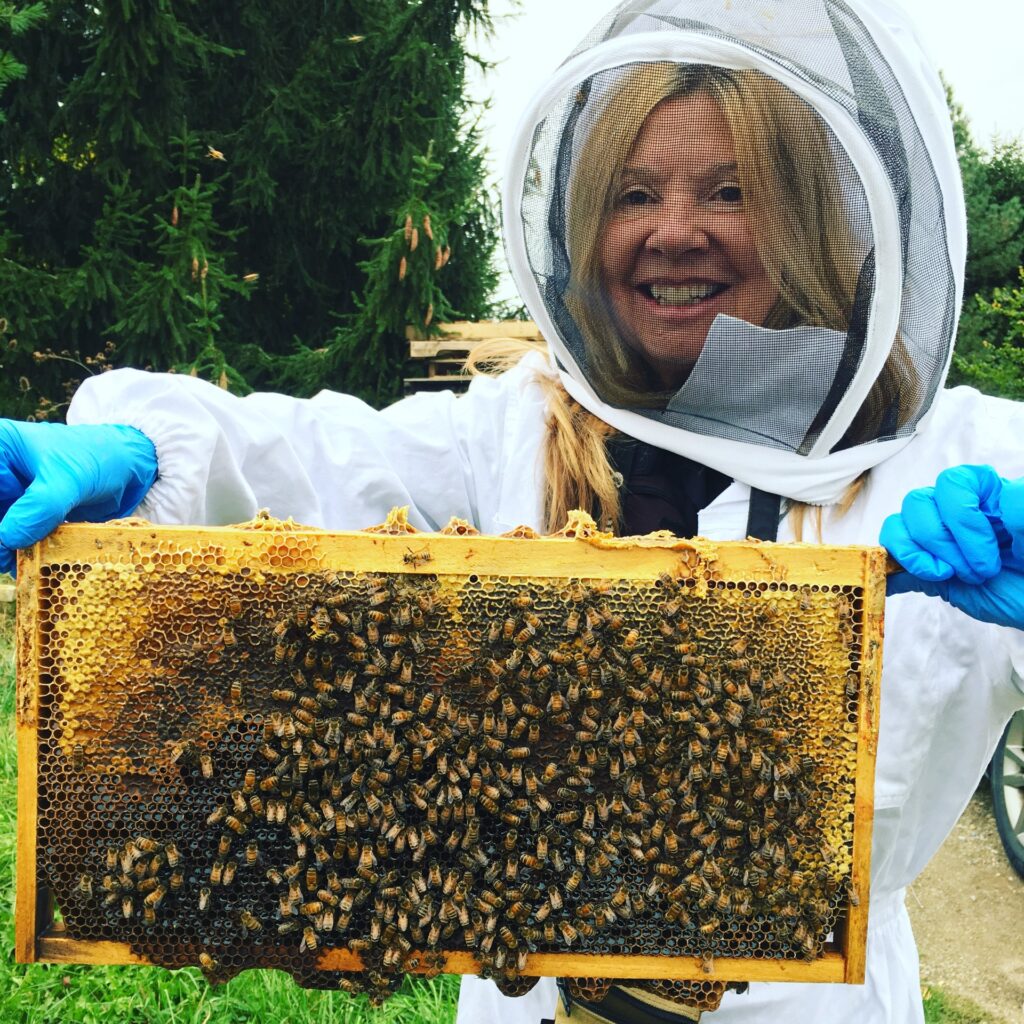 Jodi took me to her apiary, crowded with colorful hives. Swinging a smoker over one, she explained that the smoke calms the bees. Sliding out a frame crawling with her little charges, she pointed to the largest one.
"That's the queen. She'll live two to four years, while the worker bees only live 45 days."
It's the workers that go out and collect the pollen and nectar for honey production. Two weeks of foraging by one bee produces one-twelfth of a teaspoon. It's these workers who keep the queen fed and groomed while she lays eggs – 1,000-2,000 per day.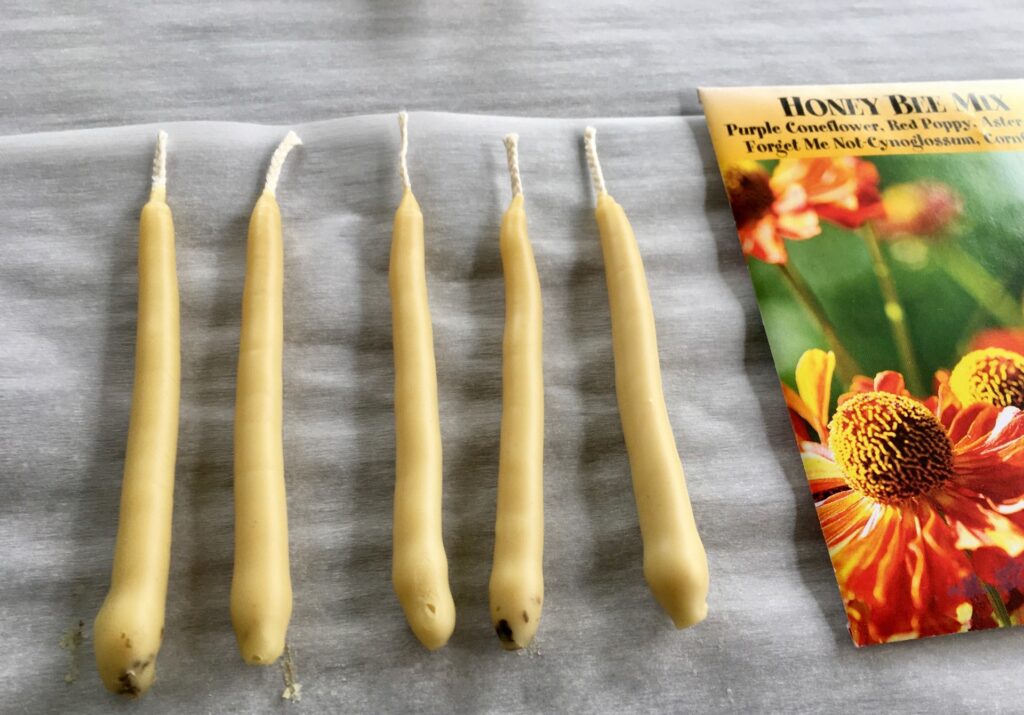 After tasting a sample of the sweet golden liquid, I took part in a beeswax candle making session, repeatedly dipping a wick into melted wax until I was able to get a few wobbly-looking sticks – passable for a birthday cake.
My interactive activities at Fred and Faye Glauser's TLC Alpaca were also sweet – and woolly. The 150-acre family farm, home to nine alpacas, a few donkeys, a horse and a cute Billy goat named Willie, was just outside of Mitchell, Ont. Alpacas are originally from the mountainous areas of South America. Their coats are of a fiber similar to wool that is spun into yarn, then woven or knitted into clothing. They are part of the camel family, smaller than llamas and generally do well in colder climates.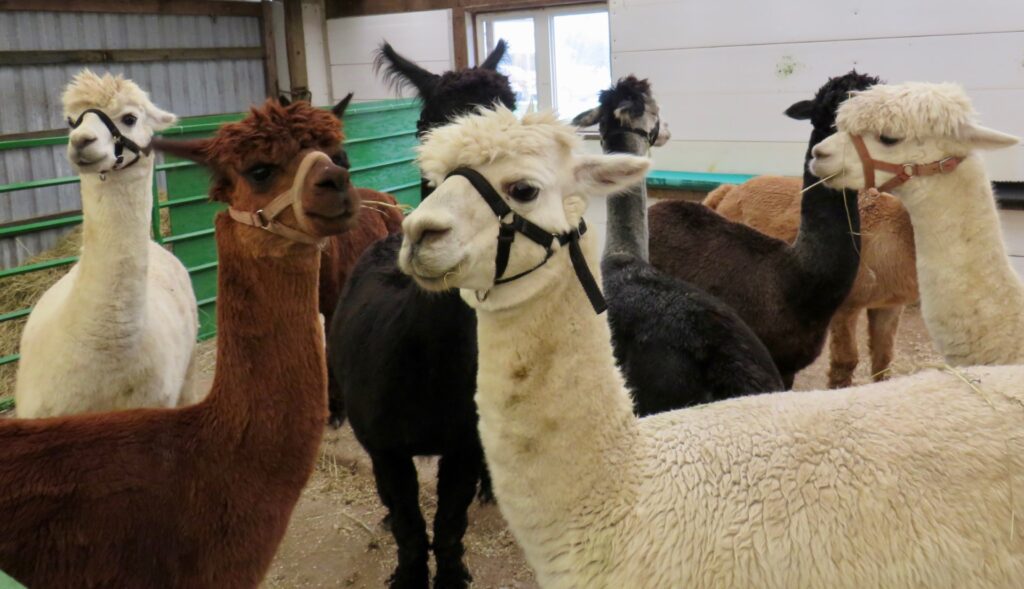 Faye met me at the gate and took me into the barn to meet January, a doe-eyed, gentle creature. The Glausers are retired dairy farmers and Faye explained that their Alpaca Walking Tour program had started with their grandchildren.
"We bought our first two alpacas for them. They wanted a different kind of animal on the farm." From there it grew into a business that provides a shearing service for other alpaca owners. The animals need to be sheared once a year as their wool is very warm and makes them uncomfortable come the warmer weather. Fred designed his own hydraulic shearing table that keeps the alpaca secure and safe as their thick coats are clipped away. He travels to other farms to service around 350 animals a year. Plus, Faye has a little shop at the farm where she sells alpaca fiber products such as socks, slippers, and mittens.
January and I joined some other folks who had been matched up with the Glauser's alpacas and, following Faye, we gingerly edged onto the gravel road that ran beside the farm. All went well until an alpaca named Jake surprised his walker by lying down. Luckily, we didn't encounter any cars and with a little encouragement he got back up. January's gait, thankfully, was steady and I got the feeling she enjoyed stretching her legs and getting a gander at the surrounding fields. On the way back to the barn I noticed that January, and all the other alpacas, had picked up the pace. "They know they'll get some treats once we get back," said Faye, smiling.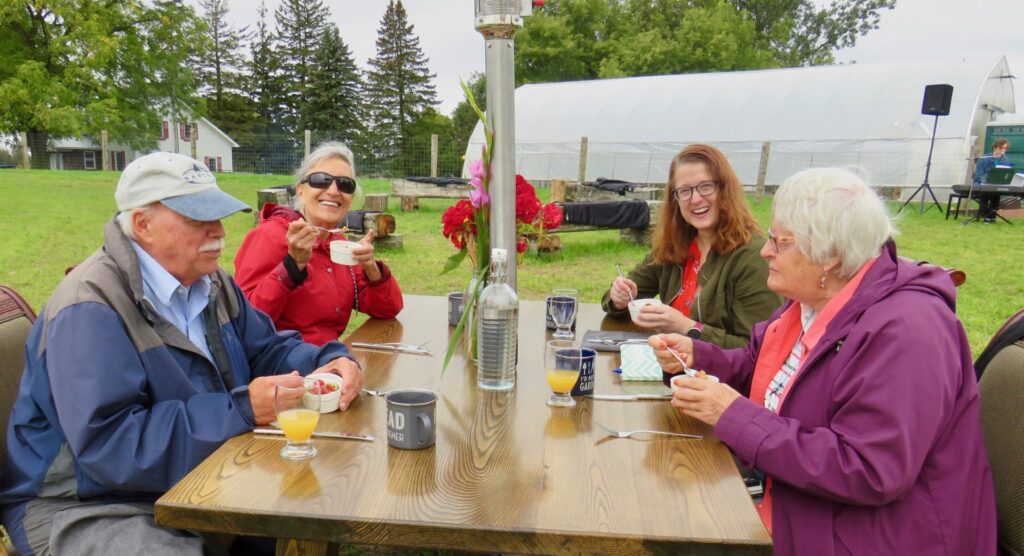 It was time to go home, but first I wanted to pop into the Listowel Golf Course clubhouse. The club is home to Corey Connors, a Canadian professional golfer on the PGA tour, and it was fun to see his 2021 Augusta Masters Tournament hole-in-one club and ball on display. The 27-hole championship course has a delightful dining room and I settled into a seat on the patio, overlooking a sprawling green for a bit of refreshment before heading back to Toronto.
Contemplating my encounters with healthy, home-grown food, bees and alpacas, I sighed with contentment.
For a city dweller like me, Perth County was just the place to reconnect with the natural cycle of life.
http://listowelgolfclub.ca
TLC Alpaca: On Facebook