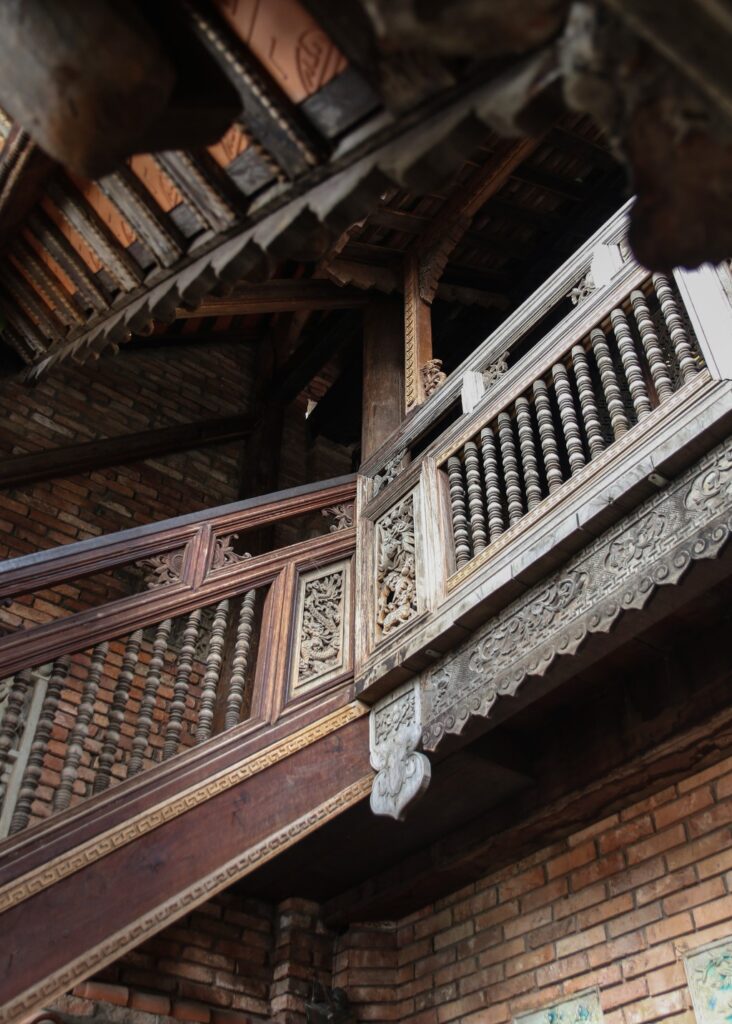 In addition to hustle and bustle, Saigon embraces nostalgic cultural and historical values. The Museum of Traditional Vietnamese Medicine (also called the Fito Museum) is located at 41 Hoang Du Khuong Street, Ward 12, District 10. It has existed for nearly two decades, storing ancient medical knowledge from Vietnamese doctors.
The private, 600-square-meter museum was built by the Fito pharmaceutical company in 2003 and it opened in 2007. Its wooden interior is from an old house in Hanoi. Artisans removed the pillars, bricks and stones in order to move it to Saigon and recreate an old-style Vietnamese house.
The building consists of seven floors and 18 rooms filled with more than 3,000 rare, traditional medical artifacts. Some are 2,500 years old. All are arranged scientifically in a creative and eye-catching layout. The role of natural medicinal herbs is highlighted as is the saying of Zen Master Tue Tinh, "Southern medicine for southern people."
Photo: Wooden architecture at the museum. Photo: BLD
Explore 18 unique rooms
Visitors go from the top floor to the ground floor. Each room at the museum has a story.
Room 1: History of Traditional Vietnamese Medicine
Here you will find valuable documents about historical events that occured during the development of traditional medicine.
There is a huge collection of Han-Nom books; Marvellous Efficacious Vietnamese Medicine, and Practice of the Lazy Master of Hai Thuong by Hai Thuong Lan Ong (28 volumes, 66 books). This is considered an encyclopedia of Vietnamese Traditional Medicine.
Room 2: Traditional Vietnamese Medicine
This place honours two famous doctors who made great contributions to the field of traditional Vietnamese medicine. Zen Master Tue Tinh from the 14th century and Hai Thuong Lan Ong (Le Huu Trac) from the 18th century who was the author of a massive encyclopedia on the subject.
Photo 2: Temple of two famous doctors. Photo: BLD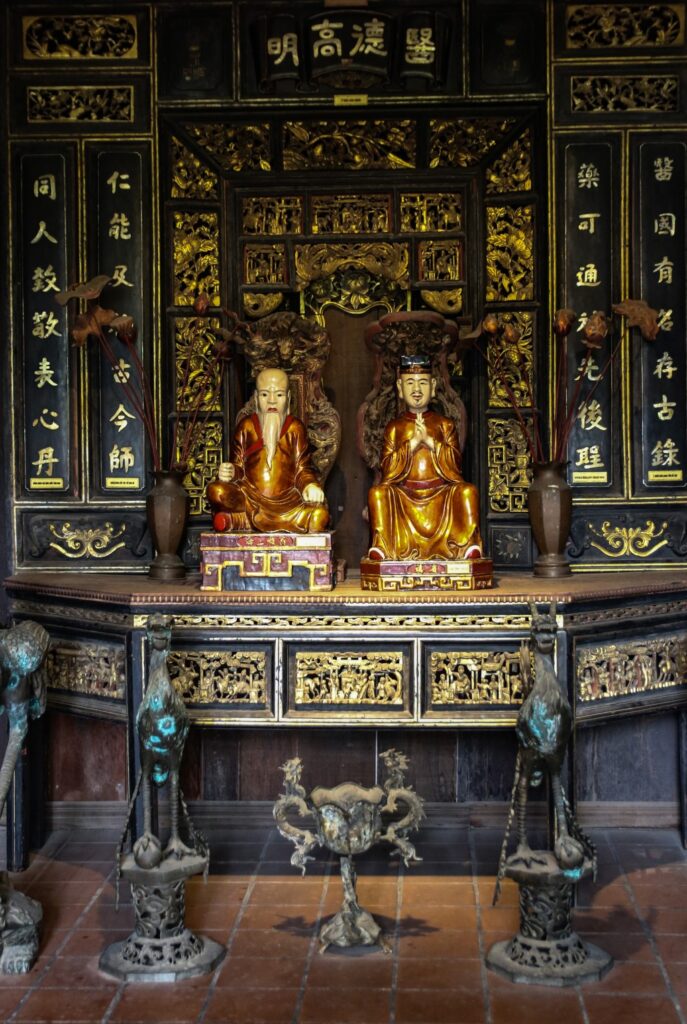 Room 3: Prehistoric Ethnic Medicine
Stone and bronze artifacts related to traditional medicine are displayed in this room.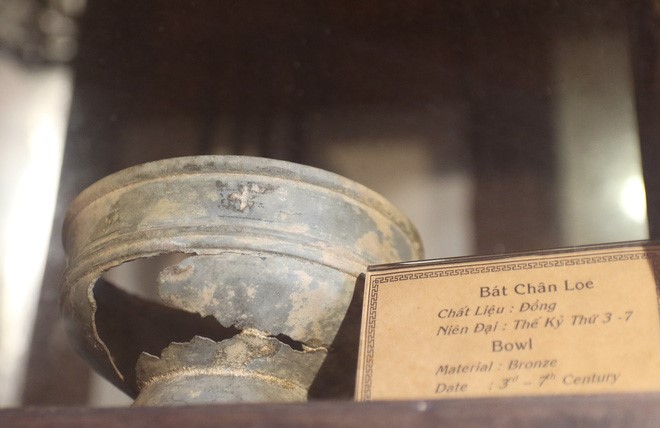 Artifacts from prehistoric times. Photo: BLD
Room 4: Famous Vietnamese Doctors
The walls are hung with 15 gilded paintings of famous doctors and authors from the 13th to the 19th centuries.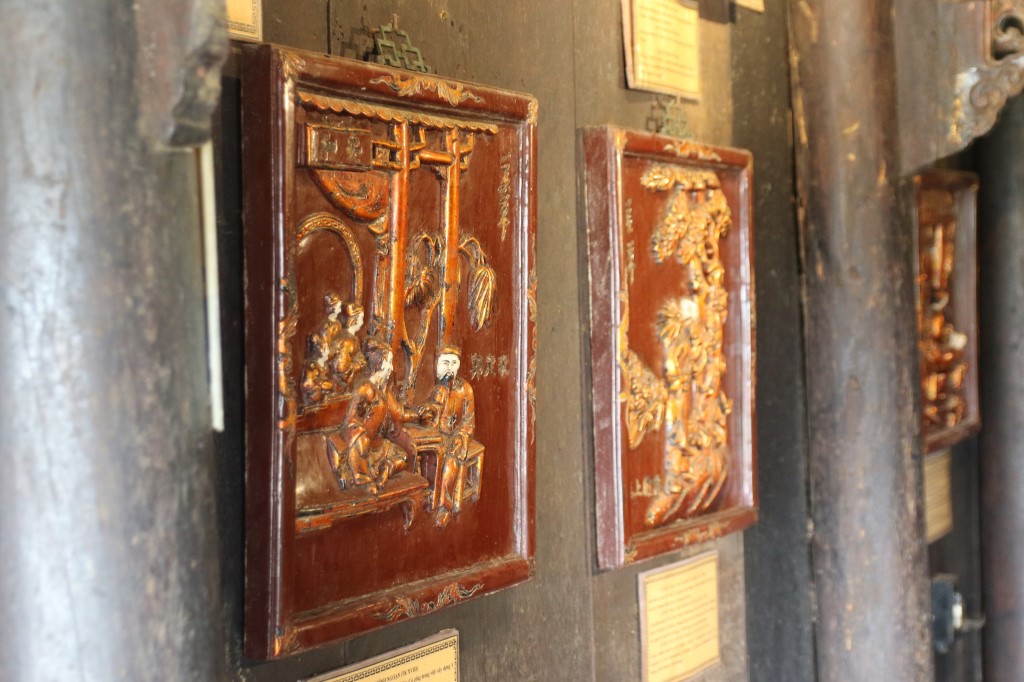 Room 5: Cham Tower
This is a reproduction of the entrance to Thang Long Temple of Medicine which was built in 1780 in Thang Long, Hanoi. It is built according to the traditional architecture of the Cham people combined with the old Northern house and architectural style of Hue.
Room 6: Relics of Traditional Vietnamese Medicine
The paintings, artifacts, and documents in this room introduce visitors to an overview of Oriental medicine in general and the medical history of Vietnam, Korea, and Japan.
Room 7: Traditional Vietnamese Medicinal Plants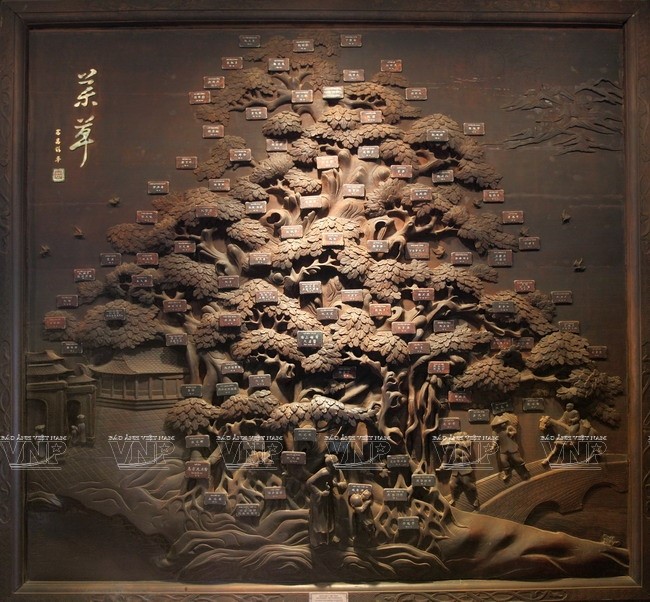 Prominent in this room is a large wooden carving called Vietnam Bach Gia Y. Also known as the Tree of the Generation of Vietnamese Physicians, it highlights the names of 100 famous doctors from the 12th to the 20th century. This is one of the most impressive places in the museum.
The wooden painting weighs 500 kilograms, and was completed by artisans working for many months. The painting is of a large tree trunk with sturdy roots, and lists the names of the first physicians who laid the groundwork for traditional medicine. The canopy spreads out, showing the strong development of the medical profession and at the top new shoots can be seen.
In addition, in the glass cabinet, there are a number of books on the faculties of traditional medicine, including pharmacology, acupuncture, gynecology, pediatrics, ophthalmology, and nutrition.
Room 8: Vietnamese Medicinal Herbs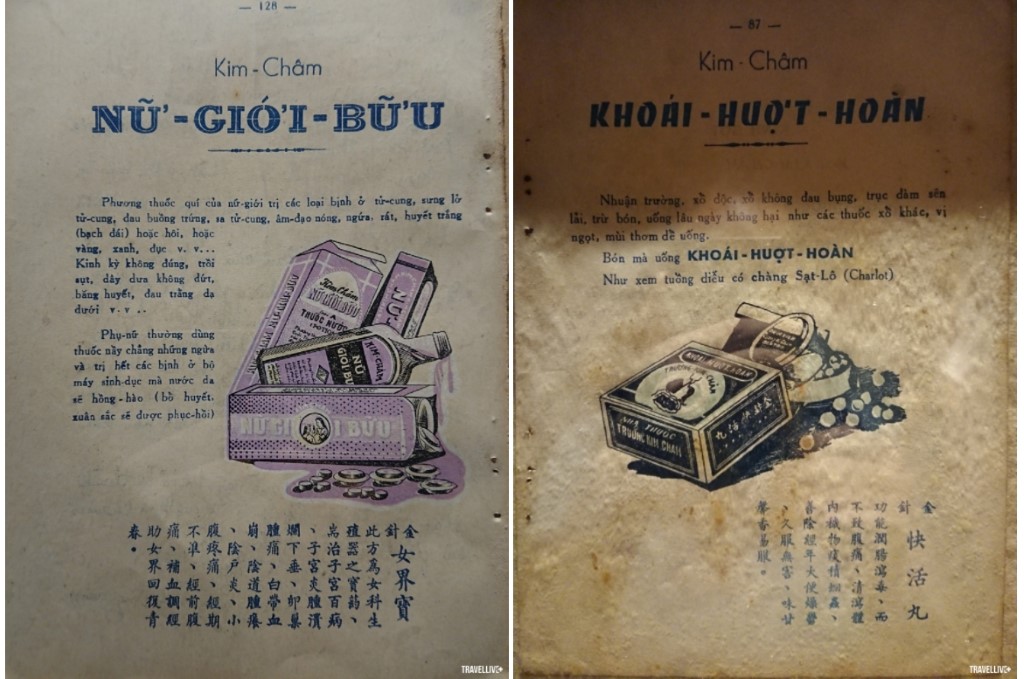 This room displays more than 300 samples of plants, animals and minerals used as medicine. There is a collection of pictures called Vietnamese Manuscripts showing nearly 2,000 medicinal plants used to cure people for generations. These include those that have been passed down as long as Chi Bao Don and Minh Mang Thang.
Room 9: Apothecary Tools for Oriental Medicine
The displays here are of apothecary tools such as knives and mortars.
The knife is a tool that cuts medicine into thin sheets. The mortar crushes dry medicine into powder.
Room 10: Model of a Northern 19th Century Pharmacy
Young people like to come here and take pictures. It is a reproduction of a popular Northern pharmacy in the 19th century. The cabinet and counter are wooden, from the 19th century. The medicine cabinet has many drawers labeled with the names of herbs, plus there are scales and an abacus.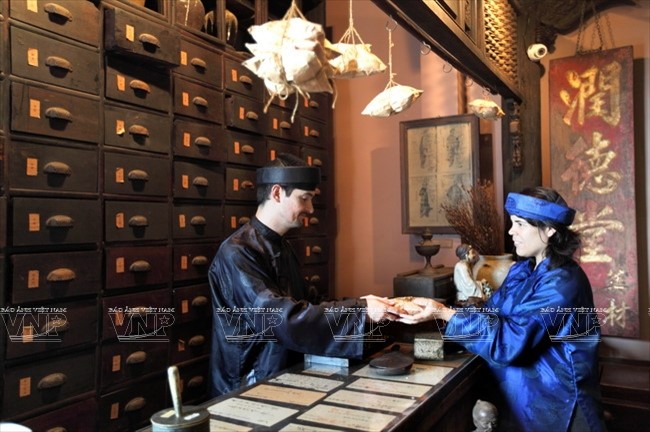 Room 11: Collection of Wine Jars
Using liquor is an ancient way to prepare medicine. For generations people have handed down the method of soaking medicines in wine to achieve the highest quality. This method is called Lower Earth. Vietnamese people prefer to use crockery and this room features many types of historic wine jars.
Room 12: Collection of Potions and Medicine Cups
Mosaic paintings depicting activities related to traditional medicine can be found here. They cover how to pick medicine, how to check a pulse, how to prepare medicine, and how to prescribe. There is also a collection of teapots and medicine cups with many delicate patterns. The ancients used them not only to make tea, but also to 'hãm' (i.e. soak in hot water) medicinal herbs.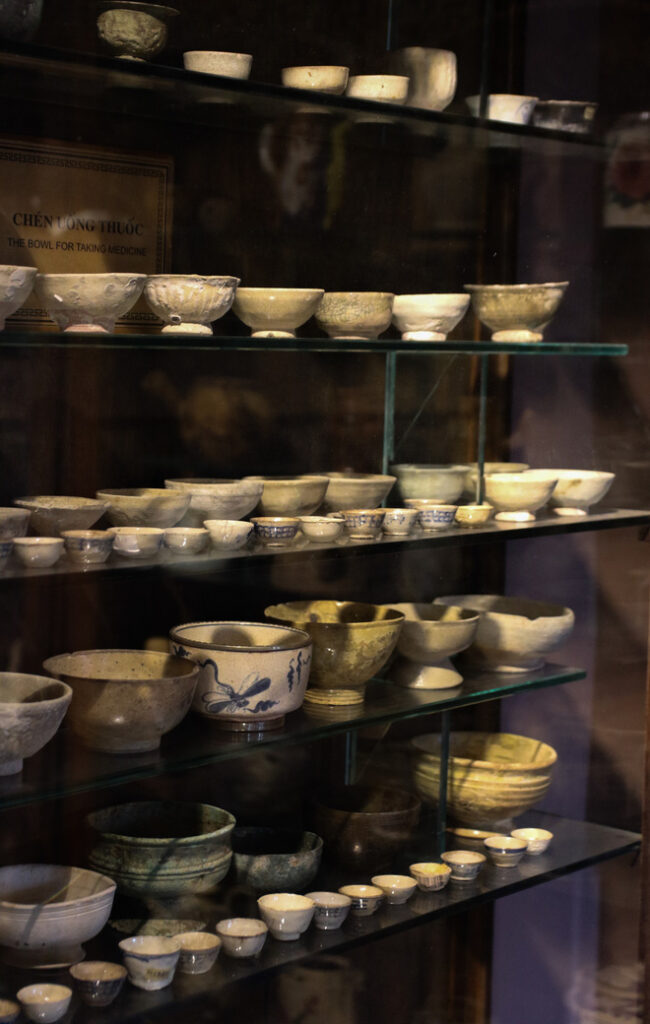 Room 13: Collection of Weighing and Pounding Tools
The displays here are of artifacts widely used in 19th century drugstores as well as in the daily life of Vietnamese people. They include pestle and mortar, cân ta, cân tây, cân tiểu ly, wooden stamps for printing drug bills and prescriptions.
Room 14: Collection of Warm Medicinal Colors
Here you will find a variety of warmly decorated medicines collected from all provinces and cities of Vietnam.
Room 15: Collection of Medicinal Wine Bottles
This is a collection of wine glasses and wine pots of various shapes and materials, dating from the 1st-3rd centuries to the 20th-century.
Room 16: Thai Hospital
This is a model of a Thai hospital where Vietnamese kings and royalty were treated in the past.
Room 17: Cinema Room
A movie theater that seats 50 allows visitors to watch a documentary about the history of Vietnamese traditional medicine called Experience in the Century of Health Services. It is in five languages; Vietnamese, English, German, Russian and French.
Room 18: Souvenir Stall
After touring the museum, visitors can experience the cutting, spreading, and tasting of medicine. They can also see how a medical examination and treatment are done. There is free herbal tea available and medicines, herbal tea, tonic wine, and products such shampoo, and shower gel are for sale.
Museum of Traditional Vietnamese Medicine
Address: 41 Hoang Du Khuong, Ward 12, District 10, Saigon.
Entrance ticket (Vietnamese/English voiceover included):
• Adults: 120,000 VND
• Students, students, children under 1.2m: 60,000 VND.
Hours: 8:30 to 17:00 (Tuesday to Sunday).